The Lucky Block price has risen sharply this weekend, up 40% in the past 24 hours and currently attempting to reclaim and hold the $0.0020 level.
On Feb 2nd the LBLOCK price wicked below the $0.0010 level to $0.00064 but we noted it closed the daily candle above it, suggesting it had found support there. It has put in a 300% bounce since then.
The price is currently moving in an upward channel as it did in the first few days of trading, suggesting it may retest its all time high of $0.031 if it manages to close a daily candle above $0.0022, which it has only done once before.
After that there would be little resistance preventing LBLOCK from entering price discovery above its previous top.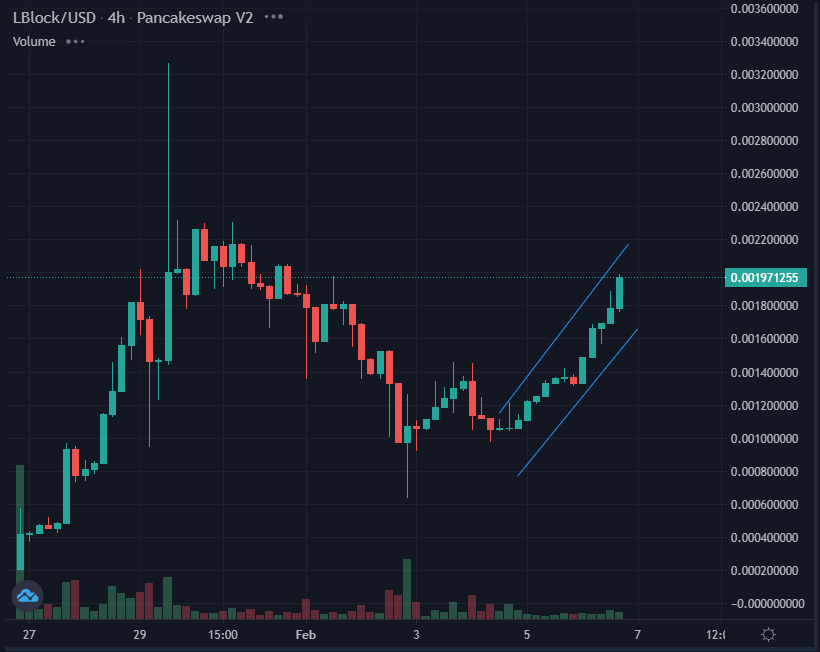 Lucky Block News Updates
The bullish uptrend began after the Lucky Block team and CEO Scott Ryder held a Telegram AMA with investors, released screenshots of the upcoming Lucky Block app expected to launch March 21st, and addressed some FUD surrounding transactions.
Positive mainstream media coverage in the UK also came in the form of an article in the Express, its headline stating Lucky Block's worldwide lottery format could 'dwarf the Euromillions'.
The price increased more on Sunday on news of a confirmed LBank exchange listing, the projects second crypto exchange listing after Pancakeswap.

Founded in 2015, LBank exchange has over 6 million users and an average trading volume of over $1 billion, ranked #28 by Coinmarketcap – whose ranking takes into account volume, traffic, liquidity, and investor confidence. Read the announcement posted to the LBank website.
Some investors also noticed Coinbase now has a Lucky Block price chart and market stats for the coin on their website, and users can add it to their 'watchlist'.
This does not necessarily indicate Coinbase will decide to list a coin in the future, but Coinbase does tend to only chart and make available for its watchlist cryptos that it considers legitimate.
The team also announced the Lucky Block crypto lottery prizepool has reached over $1 million.
All token holders have a chance at winning a slice of lottery jackpot payouts even if they don't participate in the lottery. Read more in the whitepaper on the Lucky Block website.
Cryptocurrency markets are highly volatile and your investments are at risk.
Source link