The crypto market is on the rise once more, and as always, premier digital asset Bitcoin is leading the rally. Alternative currencies (altcoins) are also showing a bullish trend as the nascent industry prepares for another bullish run. Given the changing climate around digital assets, several investors are searching for the best penny altcoins for big profits they can snap up.
Here are a few that have serious growth potential for the long term.
1. Lucky Block (LBLOCK)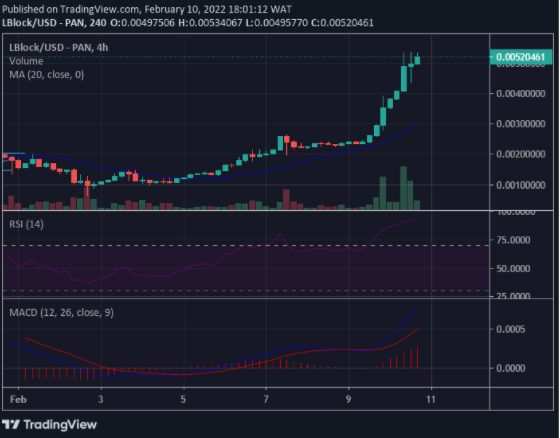 Lucky Block has begun the year strong, and the new crypto project is making waves at the moment. The digital asset broke into the crypto scene in late January and surged over 1,000% in a week, hitting a then high (ATH) of $0.003135, making LBLOCK one of the best penny altcoins for big profits. The crypto lottery protocol has continued to generate buzz largely due to its value proposition.
For a start, Lucky Block is following the general atmosphere around cryptocurrencies which is to revolutionise and redefine a lagging centralised system.
In this protocol's niche, this is the online gambling industry. Lucky Block is based on the Binance Smart Chain (BSC) network and aims to create an inclusive gambling environment for everyone.
Aside from this, users will see their chances of winning increase exponentially as Lucky Block runs on an entirely novel gaming model. Investment option is also available, making it easy for players to generate passive income from doing what they love.
Lucky Block is currently on a listing frenzy and has so far launched on the decentralised exchange (DEX) platform PancakeSwap. You can also find LBLOCK on Coinmarketcap, CoinGecko, and Dextools and there are plans for the BEP-20 token to make an entrance into centralised exchange ecosystems like Binance, FTX, Crypto.com, and several others.
At press time, LBLOCK is trading at $0.0052, up 79.61% in the last 24 hours. This is after hitting a new record high of $0.0053 earlier in the day.
2. Cardano (ADA)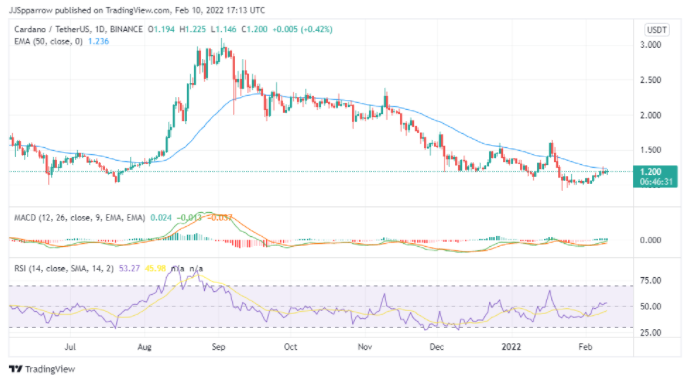 Popular Ethereum killer Cardano is another one of the best penny altcoins for big profits and this cannot be overemphasised. Self-billed the third generation of blockchain protocols, Cardano is a proof-of-stake (PoS) blockchain and is largely peer-reviewed, meaning all upgrades and decisions are meticulously reviewed by experts before they are accepted.
The Cardano network has been slow in its roadmap but the decentralised finance (DeFi) enabling is of course a sleeping giant. Its forthcoming Hydra upgrade is rumoured to be the fastest throughput algorithm with an expected 3 million transactions per second (TPS) expected.
Cardano has continued to roll out innovative tools as its roadmap plans continue to morph into a living force. The team recently announced a new decentralised application (dApp) tool stack launched in collaboration with its commercial partner Emurgo. This is expected to aid development teams to build a vibrant ecosystem on the Cardano network.
At press time, Cardano's ADA is trading at $1.2, down 0.34% in the last day but up 14.88% in the past week.
3. Ripple (XRP)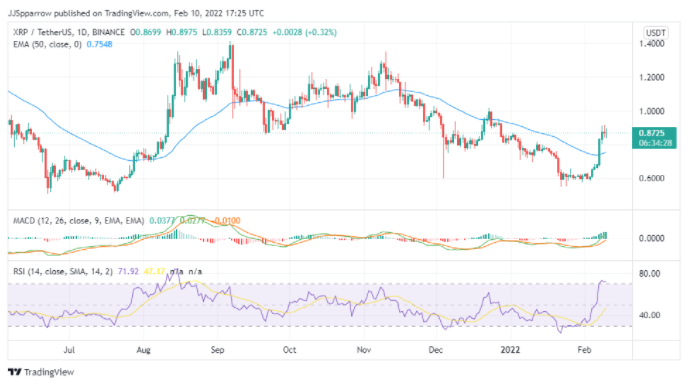 Ripple has been hitting the rocks following a legal stand-off with the US Securities and Exchange Commission (SEC), however, the cross-border payment solution has continued to stir interest among investors. Enabling low cost, efficient cross-border payment networks, Ripple is the blockchain of choice for several financial institutions making the protocol one of the best penny altcoins for big profits.

The Ripple network has continued to snap up major partnerships despite receiving a hostile reception in the US. A recent partnership with payments platform Modulr is a testament to this. According to the press release, Modulr is partnering with the blockchain payment network to offer seamless payment services for customers in the EU and the UK.
Others are recent partnerships with Pyypl to bring instant, cost-effective remittance service to the Middle East and another with Al Fardan Exchange.
Price-wise, XRP has sustained continued market pains and is trading below the $1 mark at $0.87. The digital asset is down 2.23% but has a weekly gain of 45.34%.
4. Decentraland (MANA)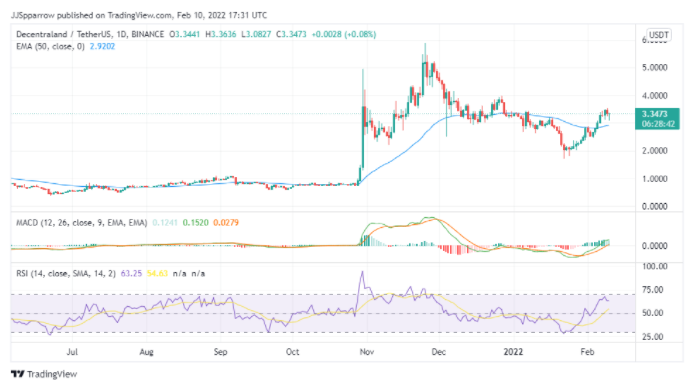 Decentraland has become the flagbearer of the Metaverse. Based on the Ethereum protocol, Decentraland allows users to create, share, and monetise their content and applications. Adding to an already exciting list, Decentraland enables the purchase and monetisation of virtual plots of land purchasable on its protocol.
Decentraland also runs a gaming platform through its Decentral Games ecosystem and a decentralised autonomous organisation (DAO) powered by its governance token MANA.
Since the boom of non-fungible tokens (NFTs) and Meta's push into the immersive experience space, Decentraland has seen its user base shoot up by 3,300% in the last 12 months.
The protocol has benefited from being a first mover and is currently trading at $3.3473, up a modest 0.04% in the past day. Weekly gains are however up with the ERC-20 token rallying over 29% in the past week.
Decentraland was recently tapped by The Meta Lite Bar for a launch into the Metaverse ecosystem.
5. Fantom (FTM)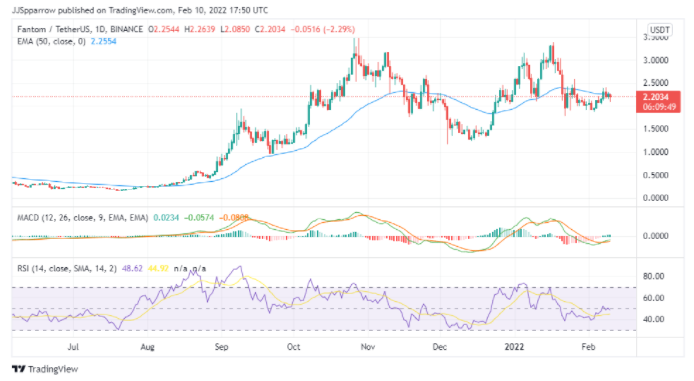 The Fantom blockchain is another one of the best penny altcoins for big profits. A popular Ethereum competitor, Fantom is a scalable, censorship-resistant blockchain that uses a novel Tangle consensus algorithm to process transactions.
Fantom has been scaling its platform and recently partnered with Stader Labs. This is expected to enable FTM users to unlock their staked FTM through liquid staking and delegate to multiple validators.
DeFi protocol Alpaca Finance is also launching on the Fantom blockchain in the coming week. This would bring yield farming into the Fantom protocol further expanding its DeFi prowess.
FTM has been struggling to make waves in its price performance so far this year. However, the digital token has continued to trade with the $2 to $2.5 range. At press time, FTM is trading at $2.2, down 1.56% in the past day. Weekly gains of 15.66% point to a long term bullish trend.