The cryptocurrency market has regained some ground after dipping yesterday. Its total cap has increased to $1.85 trillion, having fallen the day before to $1.79 trillion. This represents a 24-hour rise of around 3%, with BTC and other major coins rising by similar (or larger) percentages. And with the market's momentum looking good for the next few days, we've chosen the 5 best cryptocurrency to buy for a weekend rally. This covers coins with good short- and long-term potential.
5 Best Cryptocurrency to Buy for a Weekend Rally
1. Lucky Block (LBLOCK)
At $0.00109315, LBLOCK is down by 15% in the past 24 hours. However, it remains up by 154% since becoming tradable eight days ago, when its price was $0.00043244.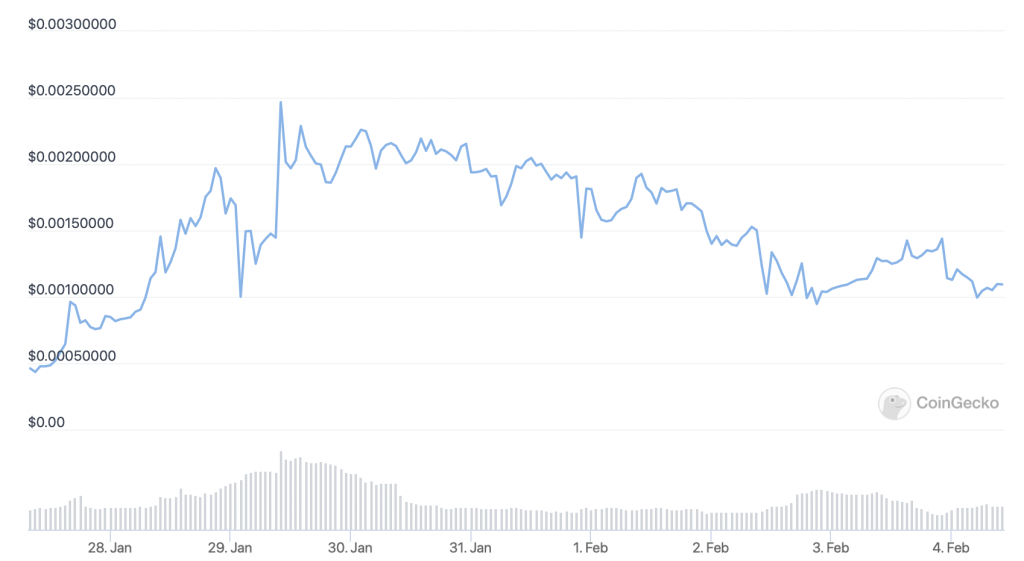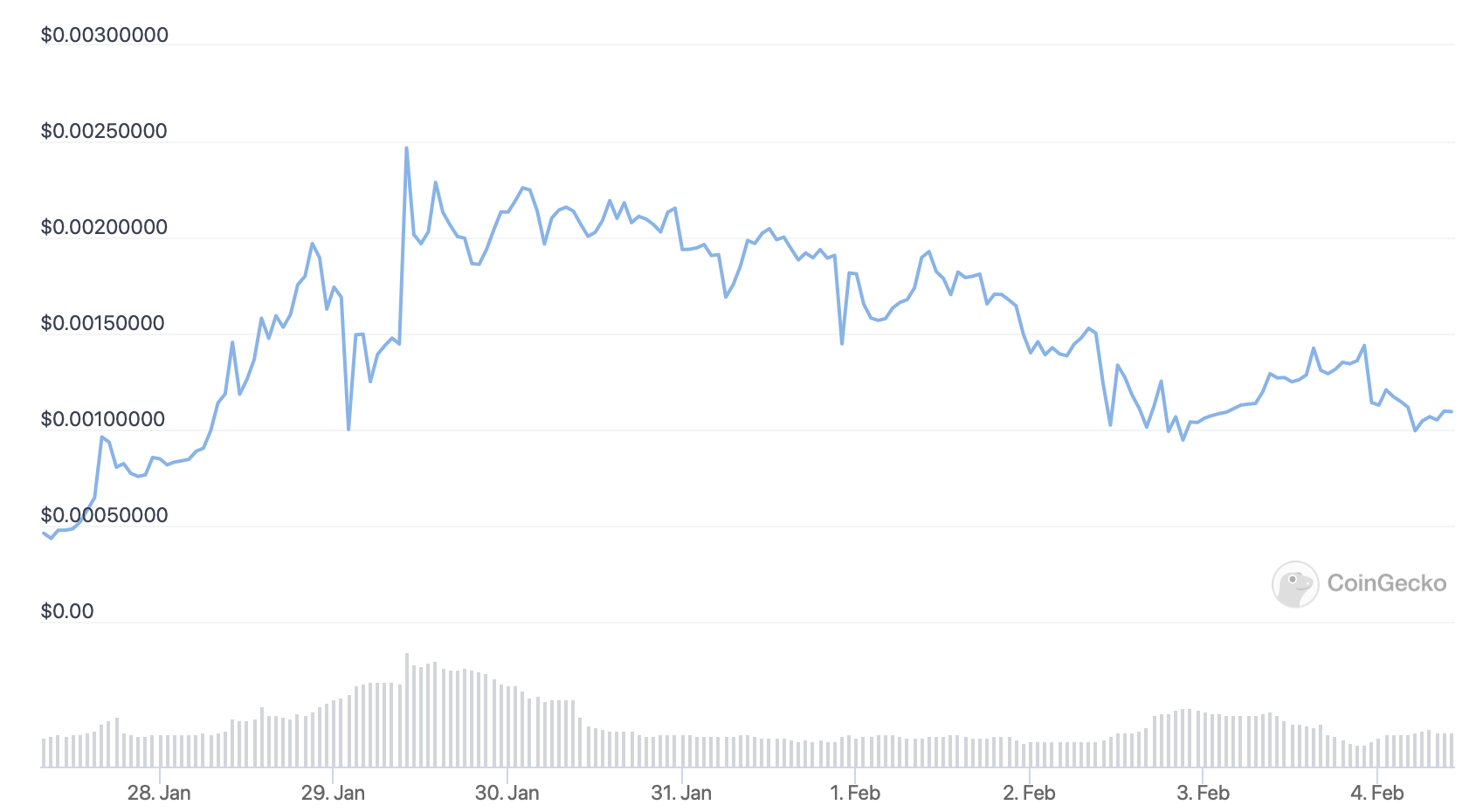 The native token of the recently launched Lucky Block lottery platform, LBLOCK is a BEP-20 token running on Binance Smart Chain. It can be used to enter Lucky Block lottery draws, with the first such draw taking place on March 25th, 2022.
After this date, Lucky Block will hold regular draws. Ticket holders will have the chance to win 70% of each lottery's jackpot fund, while token holders who don't enter still gain an equal share of 10% of the same fund.
Investors can currently trade LBLOCK with BNB on PancakeSwap, although Lucky Block is planning to expand listings in the near future. Given that it launched only a week ago and hasn't yet held its first draw, LBLOCK's price could rise strongly in the future.
2. Ethereum (ETH)
ETH is up to $2,837 today, marking a rise of nearly 7% in 24 hours. It's also up by 17% in the past week, while down by 25% in the last month.
ETH's technical indicators suggest that it may have begun a rebound. Its relative strength index (in purple above) has risen from 20 to 50 in the past few days. At the same time, its 30-day moving average (in red) looks close to a bottom in relation to its 200-day (in blue).
It's also worth pointing out that ETH has done a good job of preserving its value during the downturn. It's currently 41.8% down compared to its all-time high of $4,878, set on November 10. By contrast, cardano (ADA) and solana (SOL) are down by 65% and 59%, respectively.
As Ethereum's native token, ETH arguably has better fundamentals than either of these two altcoins. Ethereum currently boasts $126.82 billion in total value locked in, which equals 61.5% of the entire DeFi sector.
Ethereum is also planning a shift this year to a proof-of-stake consensus mechanism, which will impose constraints on the supply of ETH. Combined with last year's introduction of fee burning, this could make ETH significantly deflationary in the future.
3/ Luckily, the Merge will drop the $ETH issuance to a measly 0.5m ETH/yr.

So what you are about to witness is a 90%+ issuance reduction, a whooping 5 million $ETH which is permanently stopped from being sold into the open market every single year.

A supply shock crisis.

— dshin.eth ???????? (@dshin_eth) January 5, 2022
Proof-of-stake will also make Ethereum more scalable as a blockchain. In other words, it will be better able to serve more users, which should increase its share of the DeFi market even further. Such anticipation may be part of the reason why it has done well in the past 24 hours. It's also why ETH is one of our 5 best cryptocurrency to buy for a weekend rally.
3. Bitcoin (BTC)
BTC is up by a modest 3% this morning, reaching $38,116. It's also up by 2% in the past week, but down by 17% in the last 30 days.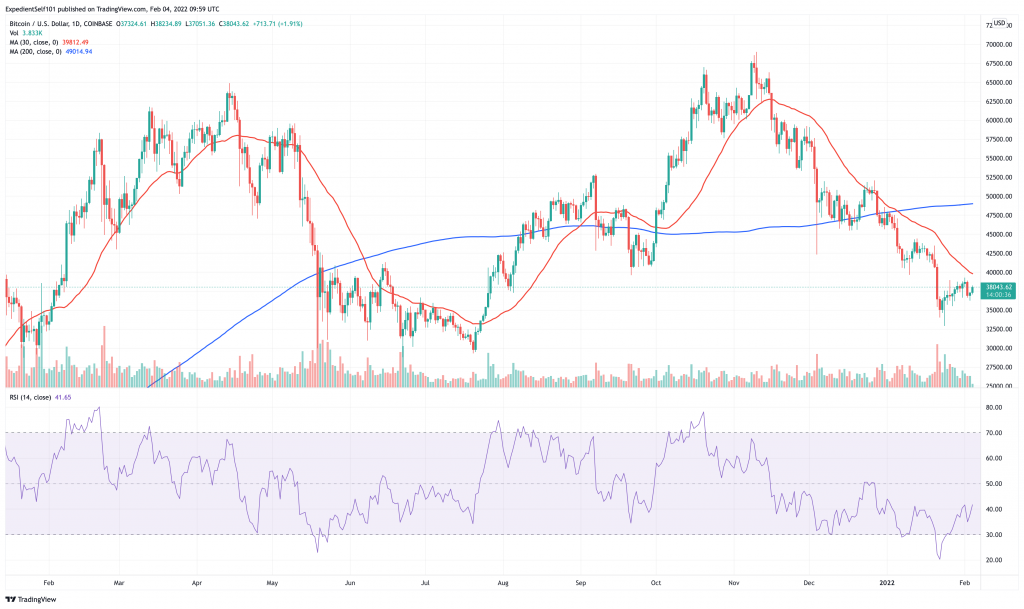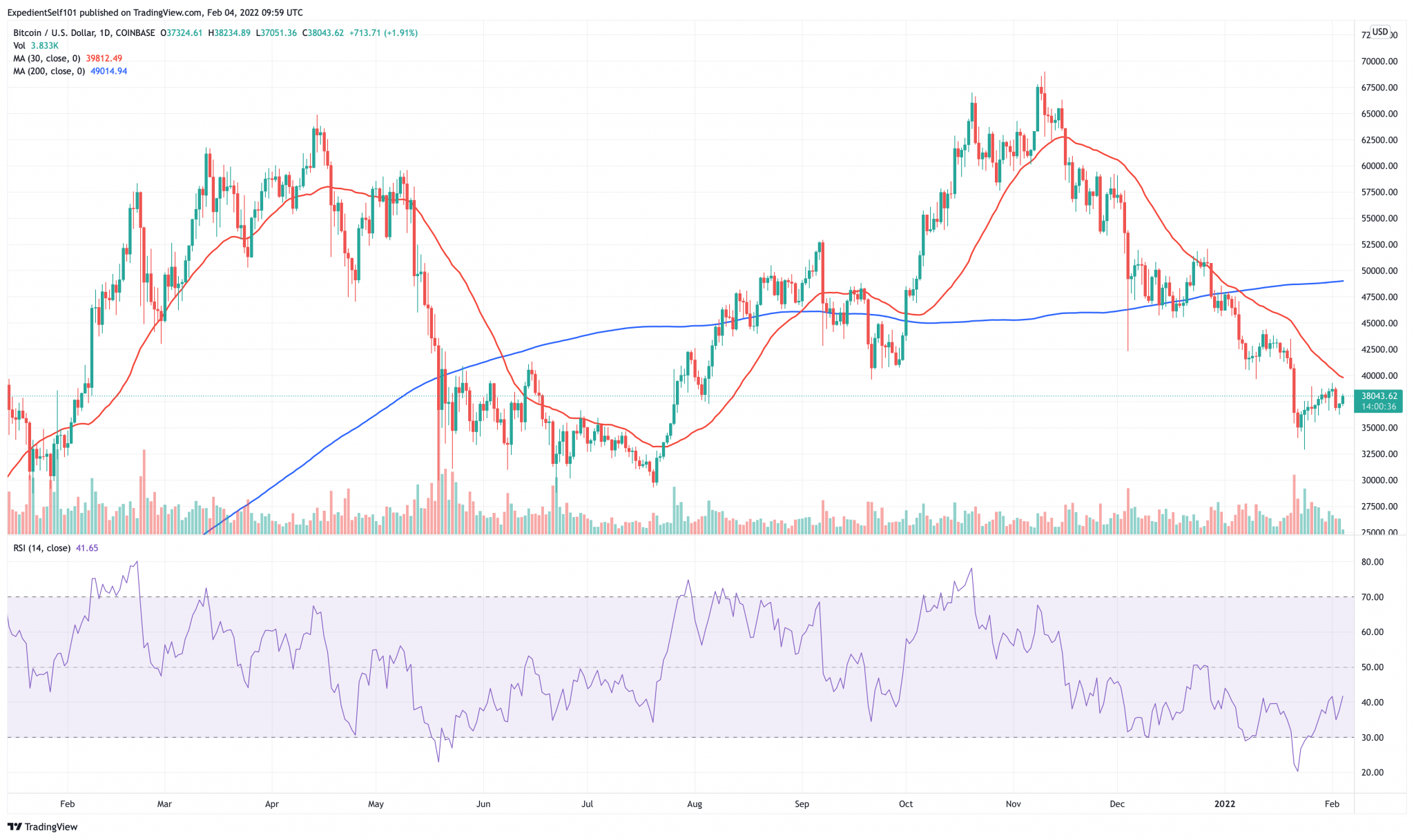 BTC's chart looks much like ETH's. This could mean it's also due for a breakout rebound, especially with its 30-day average sinking so low compared to its 200-day.

Such a rebound is inevitable sooner or later, assuming that the market in general will also recover. BTC remains the biggest cryptocurrency by market cap for a reason. For instance, institutions (including national treasuries) currently own some 1.5 million BTC, equal to around $57.8 billion.
Such investment has been driven by the narrative surrounding BTC. Bloomberg analyst Mike McGlone, for instance, continues to argue that BTC will eat into an increasing share of gold's store-of-value market in the coming years. This is largely because of its limited supply, which will help (in McGlone's view) push the price of BTC up to $100,000 in the not-too distant future.
Bullish #Bitcoin fundamentals — limited supply vs. increasing demand and adoption — are juxtaposed with the unlimited amount and ease-of-entry of other crypto-assets, with implications for prices. The roughly 17,000 so-called crypto currencies listed on Coinmarketcap pic.twitter.com/UHF9f7ZADB

— Mike McGlone (@mikemcglone11) January 25, 2022
4. Solana (SOL)
SOL is up by an impressive 12% in the past 24 hours, to $106.29. It's also up by 18% in the past week, but down by 36% in the past month.
SOL has fallen hard in recent weeks. As noted above, it has sunk by 59% compared to its record high of $259.96, set back on November 6. Part of the reason for its recent declines comes from technical issues: the most recent of these happened on January 26, causing SOL to fall from roughy $100 to $86.
Liquidator bots started spamming the network, with 2m+ packets per second hitting a single node with mostly duplicate messages.

— anat◎ly ???????????? ???? (@aeyakovenko) January 26, 2022
However, it's arguable that such issues aren't fatal, and that Solana will quickly recover. It accounts for $8 billion in total value locked in, and is already using a scalable proof-of-stake consensus mechanism. So we expect it to recover strongly in the next few weeks, particularly when it has taken steps to iron out its technical creases.
1/ Announcing the Solana #Riptide Hackathon! ????

Jump in, the water's warm. Register and start building: https://t.co/gXCeGpVtCd

???? You'll want sound on for this one. pic.twitter.com/5BwWzpCF5U

— Solana (@solana) February 2, 2022
5. Cosmos (ATOM)
At $29.41, ATOM is up by 12% in the past 24 hours. It remains down by 2% in the past week and by 30% in the past month.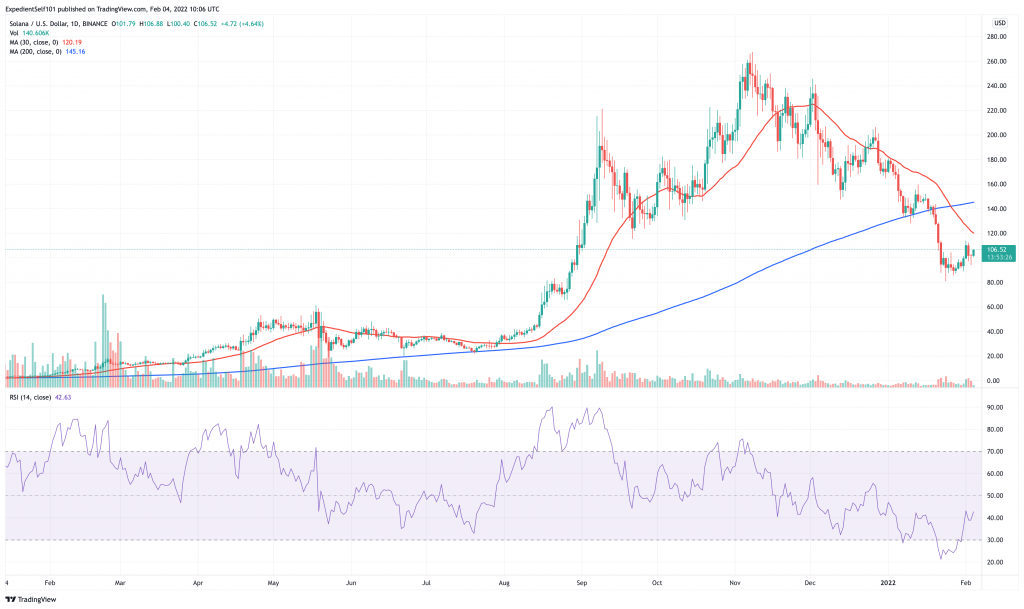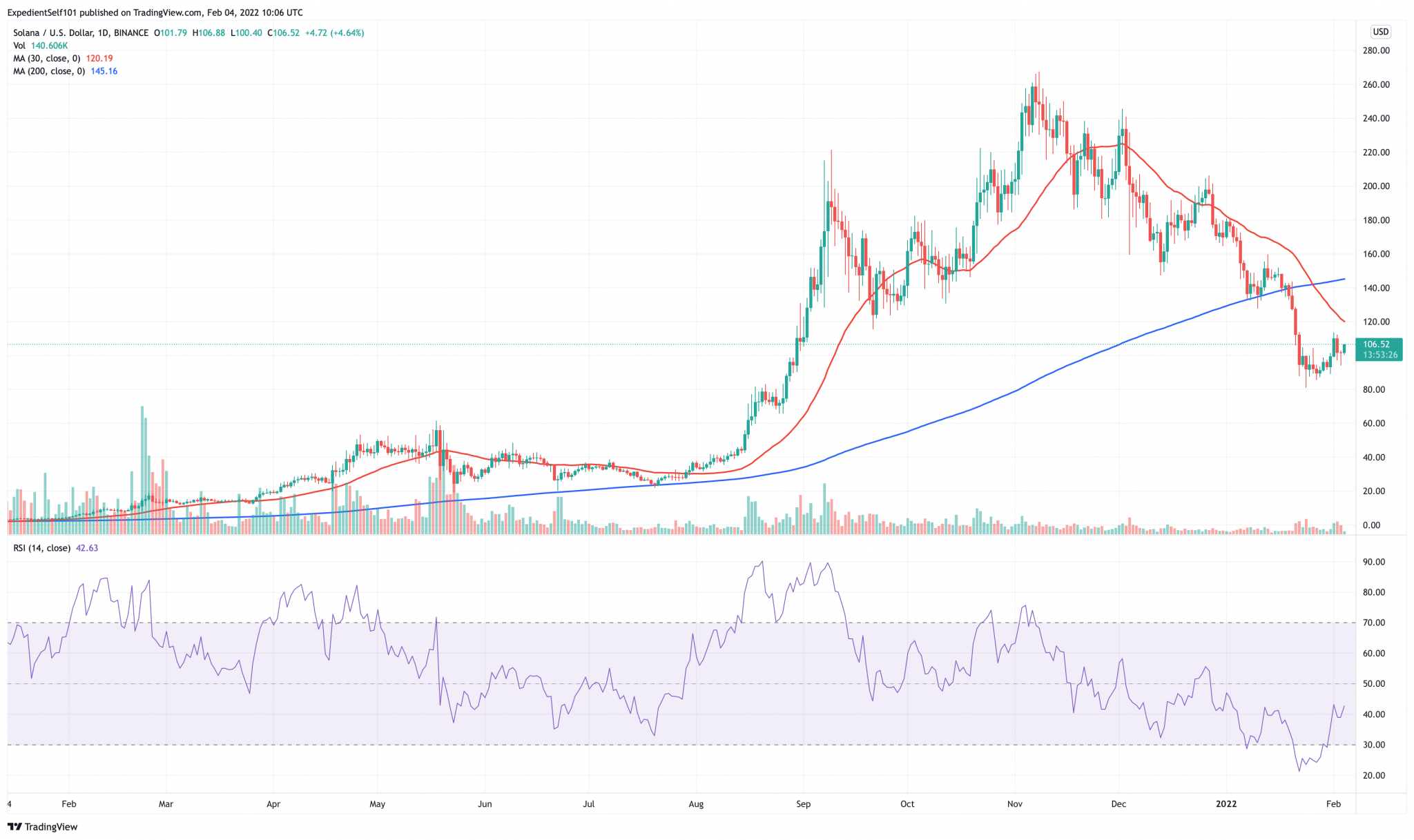 ATOM's indicators are much like ETH's and BTC's. Its RSI has risen in the past few days, suggesting a possible rally. Meanwhile, its 30-day average looks close to a bottom.
Impressively, ATOM is only 33% down compared to its ATH of $44.45, although this was set only a couple of weeks ago. As the native token of the Cosmos 'internet of blockchains,' it has been enjoying plenty of good news as of late.
Most recently, 21Shares announced an ATOM-based exchange-traded product, opening up the altcoin to institutional investors.
1/7 Today in @cosmos:
The first Cosmos ETP went live yesterday after @21Shares announced the listing. This product will be traded against CHF, EU, and USD on Switzerland's SIX Exchange.https://t.co/KkY9Wd4xTR

— Cosmos ⚛️ Croatia ???????? (@CosmosCroatia) January 21, 2022
Towards the end of last year, Cosmos also celebrated the launch of Gravity, a bridge between its network and Ethereum. This has inevitably opened up the Cosmos ecosystem to much greater liquidity, and spurred greater demand for ATOM. This is why it's one of our 5 best cryptocurrency to buy for a weekend rally.
Get Ready Cosmonauts,

The time has come: The @gravity_bridge Chain to #Ethereum is LIVE????

Read more about Gravity Bridge Chain… https://t.co/VvhrGq3yLM
…and check the Stats on @mintscanio ???? https://t.co/24AKcteDnk https://t.co/K2usfYIVmO pic.twitter.com/7AzkhFAyBt

— Cosmos – Internet of Blockchains ⚛️ (@cosmos) December 15, 2021
Capital at risk
Read more: