The Worldcoin price is down 5% in the last 24 hours to trade at $2.30 as of 7:25 a.m. EST.
Over the past 24 hours, trading volume has increased by 47% to $347 million.
Worldcoin Price Turns Volatile Amid Controversy Relating To OpenAI Management
Worldcoin price has experienced massive volatility over the weekend around news about co-founder Sam Altman and his removal as CEO of OpenAI. Its board said there was a lack of communication transparency and doubts about his leadership capabilities.
Affected by the news of #OpenAI ex-CEO Sam Altman(@sama), the price of $WLD experienced huge fluctuations and reached an all-time high.

The market maker #GSR deposited a total of 1.83M $WLD ($4.47M) to exchanges in the past 7 hours.https://t.co/YN7DSxxWoO pic.twitter.com/qKxLE9DLhU

— Lookonchain (@lookonchain) November 20, 2023
The move spurred an uprising from the OpenAI stakeholders, including investors like Microsoft. Together, they advocated for the reinstating of Altman as CEO. There were reports of a possible comeback for Altman as the CEO at OpenAI, provoked by investor pressure to reverse his unexpected exit.
wtf wtf wtf

CEO of Microsoft now saying, paraphrased: "Microsoft can survive, even if #OpenAI collapses" pic.twitter.com/0PZK8FMXow

— Meet Kevin (@realMeetKevin) November 20, 2023
The situation has culminated in Altman joining Microsoft, coming in to lead a new advanced AI research team, according to an X post by Microsoft's CEO, Satya Nadella.
We remain committed to our partnership with OpenAI and have confidence in our product roadmap, our ability to continue to innovate with everything we announced at Microsoft Ignite, and in continuing to support our customers and partners. We look forward to getting to know Emmett…

— Satya Nadella (@satyanadella) November 20, 2023
Former OpenAI president Greg Brockman, and other former OpenAI employees, are joining this research team.
Worldcoin Price Outlook Amid Management Tussle At OpenAI
Worldcoin price is on a steady uptrend, despite managerial tussle at its founding company, OpenAI. It continues to consolidate within an ascending parallel channel. As long as the price remains bound within the confines of this technical formation, WLD holders will keep recording profits.
Increased buying pressure above current levels could see the Worldcoin price break above the channel's upper boundary at $2.600. This boldly attempts to reclaim its all-time high of $5.290 recorded on July 24. Such a move could constitute a 120% climb above current levels.
For a confirmed move north, however, Worldcoin price must record a decisive three-day candlestick close above #2.317, which is the mean threshold of the supply zone extending from $2.189 to $2.430. Confirmation of this will occur once WLD market value tags $2.600, suggesting buying strength has overcome the supply barrier represented by the supply zone.
The Relative Strength Index (RSI) remains above the 50 level, supporting the bullish thesis. Its position at 66 shows there is still room north. Also, the Awesome Oscillators (AO) indicators are in positive territory, bolstering the case for the bulls.
It is worth noting that the Worldcoin price continues to enjoy strong support downward, with the trajectory of the Exponential Moving Averages (EMAs) to the north showing more bulls are still coming in.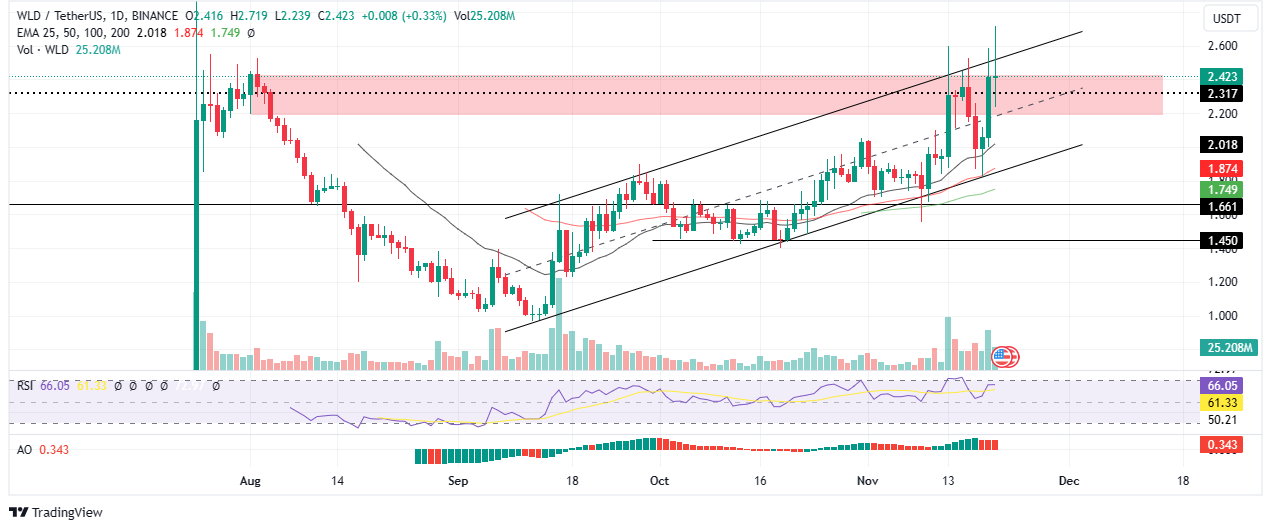 Meanwhile, the market is still focused on Bitcoin amidst anticipation for spot BTC ETF approvals. BTCMTX continues to pump in this regard, with the potential for a 20X return on investment for early entrants at launch.
Promising Alternative To Worldcoin
BTCMTX is the powering token for the Bitcoin Minetrix ecosystem, a project commissioned to make BTC ownership a reality even for ordinary folk. To do this, it tokenizes and decentralizes the entire process of Bitcoin mining, thereby minimizing risks and reducing costs.
Opting for #BitcoinMinetrix for mining convenience! 💡

With cloud mining, wave goodbye to concerns about selling equipment.#BTCMTX manages upgrades, letting users concentrate on their $BTC journey, free from the hassles of obsolete hardware. 🔧🚀 pic.twitter.com/vLUiv1LJrk

— Bitcoinminetrix (@bitcoinminetrix) November 20, 2023
With the token selling for as low as $0.0117, now is the time to buy BTCMTX in the presale. This price tag will remain on the shelf for less than two days. Thus far, presale collections have reached $4.175 million, out of the target objective of $4.914 million. Do not miss out for any reason.
Big news! 📢#BitcoinMinetrix proudly announces a colossal accomplishment, more than $4,000,000 raised! 🪙 pic.twitter.com/neW7VEgkjJ

— Bitcoinminetrix (@bitcoinminetrix) November 16, 2023
As analysts list altcoins that might 10X your investment, BTCMTX features among the top five cryptos to buy now. It is also among the best crypto ICOs with stake-to-mine utility, with analysts saying it is highly profitable.
Token holders can stake their BTCMTX tokens for mining credits. The credits are then redeemed or burned for mining hash power.
#BitcoinMinetrix introducing a new perspective on the process of #Bitcoin Cloud Mining!

✨ Ideal for newcomers entering the field.
💸 Affordable, no need for equipment costs.
🏠 Bid farewell to concerns about space, noise, and heat.
🔄 Effortless, smooth upgrades await. pic.twitter.com/VSzSocLMM9

— Bitcoinminetrix (@bitcoinminetrix) November 19, 2023
Visit Bitcoin Minetrix to buy BTCMTX in the presale here.
Also Read:
New Crypto Mining Platform – Bitcoin Minetrix
Audited By Coinsult
Decentralized, Secure Cloud Mining
Earn Free Bitcoin Daily
Native Token On Presale Now – BTCMTX
Staking Rewards – Over 100% APY