The crypto market began the week positively, with capitalization currently up by 1.52%. Top trending coins beat the bear trend that held prices down for over 48 hours, ending on Saturday. The latest market trajectory has given investors more impetus and sharpened their appetite to take up more risky assets.
DEXTools is recording rapid gains as well. The price surge may be a phenomenon attributed to the new week. Traders and investors have the rest of the week to engage the market and see where it heads.
In early trade on Monday, major stock markets across the Gulf region witnessed declines, attributed to the already factored-in expectations of forthcoming global monetary policy easing.
The markets have vastly discounted the probability of any further increase in U.S. policy interest rates, either in December or throughout the following year. A 30% probability is implied for an easing to commence as early as March, as indicated by FEDWATCH.
Traditionally, monetary policy in the Gulf Cooperation Council (GCC) of six countries is influenced by decisions made by the U.S. Federal Reserve, mainly because most regional currencies are pegged to the U.S. dollar.
Top Trending Crypto Coins on DEXTools
Saudi Arabia's primary index (.TASI) experienced a 0.3% decline, potentially breaking a streak of four consecutive gaining sessions. This fall saw ACWA Power (2082. SE) dropping by 0.7% and Saudi Electricity Co (5110. SE) retracting by 0.5%.
Meanwhile, Saudi Aramco (2222. SE), the oil giant, disclosed the discovery of two new natural gas fields in the Empty Quarter region. On Sunday, Saudi Energy Minister Prince Abdulaziz bin Salman shared this information through the state news agency.
1. Hello Kitty (KITTY)
The first token to catch attention on DEXTools today is Hello Kitty (KITTY). It is a cryptocurrency that embodies the growing NFT-inspired token space and is currently valued at $0.00000827. The current price shows a 7.94% surge in the last 24 hours. However, it witnessed a notable decline of 16.96% over the past seven days.
Notwithstanding its previous losses, KITTY has all the trappings of a top-trending cryptocurrency. With a circulating supply of 730 billion KITTY tokens, the market capitalization for Kitty Inu stands at $6.02 million.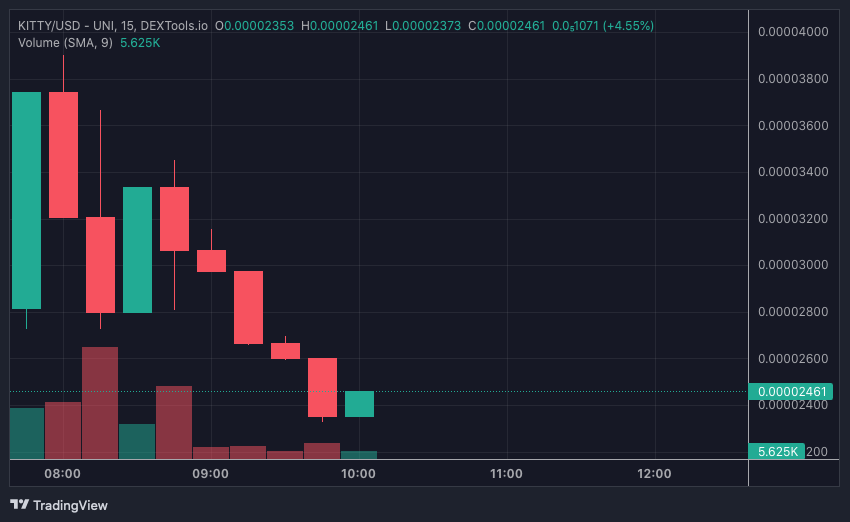 The all-time high for Hello Kitty stands at $0.00020605, recorded around November 8, 2021, marking a peak that's currently 96.01% higher than the present value. Conversely, the all-time low for KITTY was $0.000000087822, observed on May 21, 2023, indicating an impressive 9,256.83% increase from that bottom figure.
The FDV for Hello Kitty, representing the maximum market cap, stands at $6.02 million, assuming the entirety of the 730 billion KITTY tokens are presently in circulation. This valuation realization could take several years based on the token's emission schedule.
…i do this because i love uhttps://t.co/lfZHdgozwN$kitty #kitty #kittyszn pic.twitter.com/MGfIQt2FLN

— Hello Kitty (@HelloKittyErc20) November 20, 2023
In the last week, Hello Kitty faced a 17.00% price downturn, indicating underperformance compared to the global cryptocurrency market, which is up 1.70%, and similar Ethereum Ecosystem cryptocurrencies, up 12.70%. Despite this, the community sentiment remains bullish mainly, with more than 88% of users expressing optimism about Kitty Inu's potential today.
Hello Kitty's recent price movements suggest a volatile phase, reflecting the fluctuations in the broader crypto landscape, where market sentiment often guides short-term price trends. Investors closely monitor KITTY's movements, anticipating potential shifts in the coming days.
2. Grok (GROK)
Grok is also a top-trending coin on DEXTols today. Denoted by the symbol GROK, it has seen a tumultuous trading period, showing a current price of $0.00878394. In the past 24 hours, it surged impressively by 32.16%. However, the coin faced a substantial 58.28% price downturn over the past week. Notably, details regarding its market capitalization are unavailable due to unreported circulating supply figures.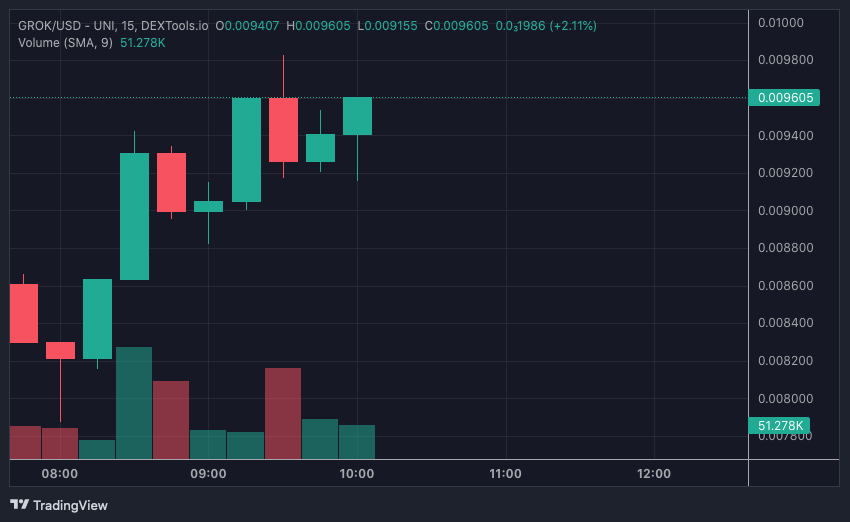 The highest price point achieved by Grok stands at $0.02439827, occurring about a week ago on November 13, 2023, which positions the current price at approximately 62.94% lower than this pinnacle. Conversely, the lowest recorded value for GROK appeared on November 7, 2023, at $0.00146062, marking a notable 519.02% surge from that bottom price level.
Grok's FDV stands at $60,275,646, projected upon the assumption that the maximum count of 6.9 billion GROK tokens is currently in circulation. Despite its recent volatility, over 71% of the community expressed bullish sentiment towards Grok (GROK) today.
It's not personal, it's strictly Grok business pic.twitter.com/iSMViz5tmX

— GROK (@GROKERC20) November 20, 2023
Grok's recent price gyrations mirror the broader trends in the crypto market, illustrating the sector's inherent volatility. The fluctuations underscore the ongoing challenges and opportunities in this space, with investors closely monitoring GROK's movements for potential shifts and opportunities.
3. Joe Coin (JOE)
Yet, the JOE Coin is also making the rounds. Its price stands at $0.381102 at the time of this report, with a 24-hour trading volume of $10.45 million. This shows a moderate 2.00% price uptick within the last 24 hours and a modest 0.74% increase in the past week. The circulating supply of 340 million JOE tokens places the coin's market capitalization at $130.18 million.
JOE's highest recorded price stands at $5.09, a milestone achieved nearly two years ago on Nov 21, 2021—comparatively, the current price trails significantly at 92.51% below its peak value. In contrast, the lowest recorded price for JOE registered at $0.02658814 on Aug 11, 2021, marking a substantial 1,333.54% increase from its all-time low.
The FDV of JOE is estimated at $190.30 million, based on the theoretical scenario that the maximum number of 500 million JOE tokens is presently in circulation. The realization of this valuation might take a considerable duration, contingent on the designed token emission schedule.
While JOE exhibited a minor increase of 0.70% in the past seven days, its performance contrasts with the global cryptocurrency market, which observed a 1.90% uptrend. Compared to analogous Avalanche Ecosystem cryptocurrencies, whose average growth is 5.80%, JOE's growth appears slightly subdued.
The $USDV Rewards are live!@USDV_Money brings us a brand new type of stablecoin, USDV, pegged 1:1 with USD and backed by a basket of tokenized US Treasury Bills. It's secure, stable, and transparent – a perfect fit for #DeFi.

Find $USDV in some of the deepest pools across… pic.twitter.com/npoUkOsoM6

— Trader Joe (@TraderJoe_xyz) November 19, 2023
Amidst these fluctuations, over 94% of the community expresses bullish sentiment towards JOE (JOE) today. This sentiment underscores the positive outlook held by a significan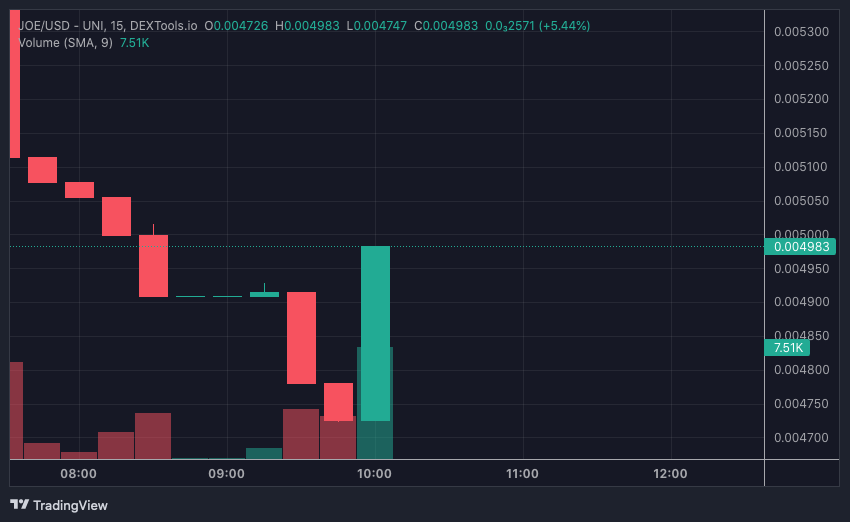 t majority of users within the community despite the token's ongoing challenges to reach its historical high.
JOE's recent stability hints at a balanced trajectory. Still, its distance from the all-time high continues to shape the narrative around its potential growth and the challenges it confronts in reclaiming historical peaks.
What Might Be The Next Top Trending Crypto?
Wall Street Memes (WSM) continues to demonstrate strength since its launch. So far, investors' expectations of it from its presale phase have succeeded despite market inconsistencies. It is currently valued at $0.02253446, demonstrating a steady trajectory with a 0.13% increase in the last 24 hours and a 0.68% rise in the past seven days. The circulating supply of 1.8 billion WSM tokens sets its market capitalization at $40.74 million.
Cutting through the bs pic.twitter.com/gNfQHsBzGp

— Wall Street Memes (@wallstmemes) November 19, 2023
The token's historical highs and lows reveal intriguing market trends. WSM's all-time high of $0.076991 occurred approximately two months ago, around September 30, 2023. However, the present price trails notably behind, marking a 70.77% deviation from its peak. Conversely, the token's all-time low of $0.01895619, recorded nearly a month ago on October 18, 2023, indicates an 18.73% escalation from its bottommost valuation.
The fully diluted valuation of WSM stands at $45 million, providing an insight into its maximum potential market capitalization, assuming the circulation of the maximum allocated 2 billion WSM tokens. The realization of this valuation could unfold over a period, depending on the token emission schedule.
In a comparative view, WSM's recent 0.70% rise within the last week places it behind the global cryptocurrency market, up by 2.00%. Similarly, compared to analogous Ethereum Ecosystem cryptocurrencies showing a collective 12.70% increase, WSM lags behind its peers in recent growth.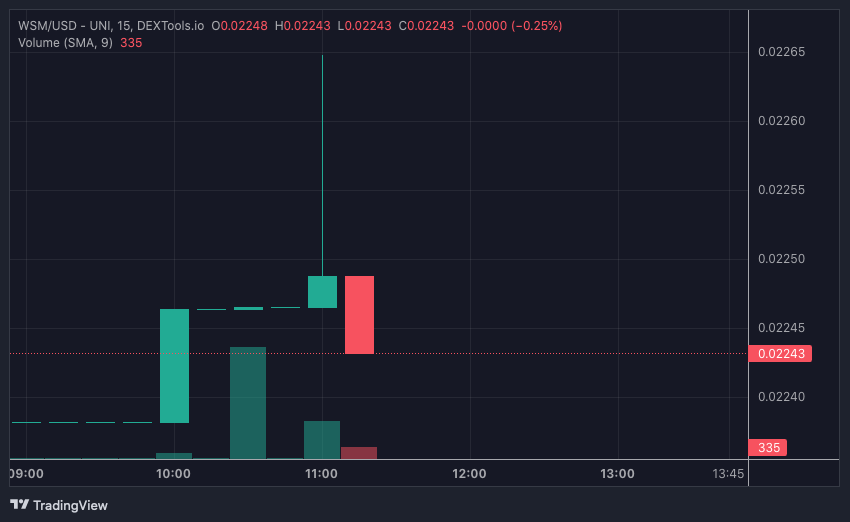 Despite these fluctuations, the community sentiment toward Wall Street Memes remains broadly positive, with over 75% of users expressing bullish sentiment. This optimism mirrors the enduring faith and positive outlook of the majority within the community towards WSM's current and future potential.
As WSM navigates through market fluctuations, its recent stability alongside consistent community optimism underscores the token's resilience in adapting to market changes, potentially positioning it for future growth opportunities. However, the token strives to reclaim its previous highs, indicating challenges amidst its ongoing journey in the volatile cryptocurrency landscape.
Visit Wall Street Memes.
Read More
New Crypto Mining Platform – Bitcoin Minetrix
Audited By Coinsult
Decentralized, Secure Cloud Mining
Earn Free Bitcoin Daily
Native Token On Presale Now – BTCMTX
Staking Rewards – Over 100% APY