The Mantle price has seen a 6.2% increase in the last 24 hours, trading at $0.504 as of 7:10 a.m. EST.
This jump may be attributed to the partnership between Mantle and Ondo Finance. Over a week ago, Mantle partnered with Ondo Finance to launch USDY, a new token backed by tangible assets. As an Ethereum ERC-20 token, USDY is available on Mantle's decentralized exchanges, such as Agni Finance and FusionX Finance. 
This introduction of a yield-generating token to the Mantle Network is a significant step following the creation of a bridge from Ethereum's Layer 1 to Mantle's Layer 2, specifically for USDY transactions. 
1/ 🚀 Introducing Ondo Bridge, a new tool for seamless cross-chain transfers of Ondo RWA tokens, initially supporting bridging of native USDY between Ethereum and @0xMantle, powered by @axelarnetwork and Ondo under the hood.https://t.co/ncM6Uitfch

— Ondo Finance (@OndoFinance) November 13, 2023
Over the past 24 hours, the trading volume has surged by 33%, reaching $141 million and contributing to its market capitalization of $1.55 billion. 
Mantle Price Trades Head And Shoulders Pattern
The mantle price is near its cycle peak, achieving its highest price of $0.600249 on July 20, 2023. The lowest point following its all-time high (ATH) was $0.307707, representing a cycle low. 
The bulls have taken control of the price after garnering forces at the $0.31 support and culminating in an inverted head and shoulders pattern, which signals a bullish trend continuation surpassing the $0.42 resistance zone.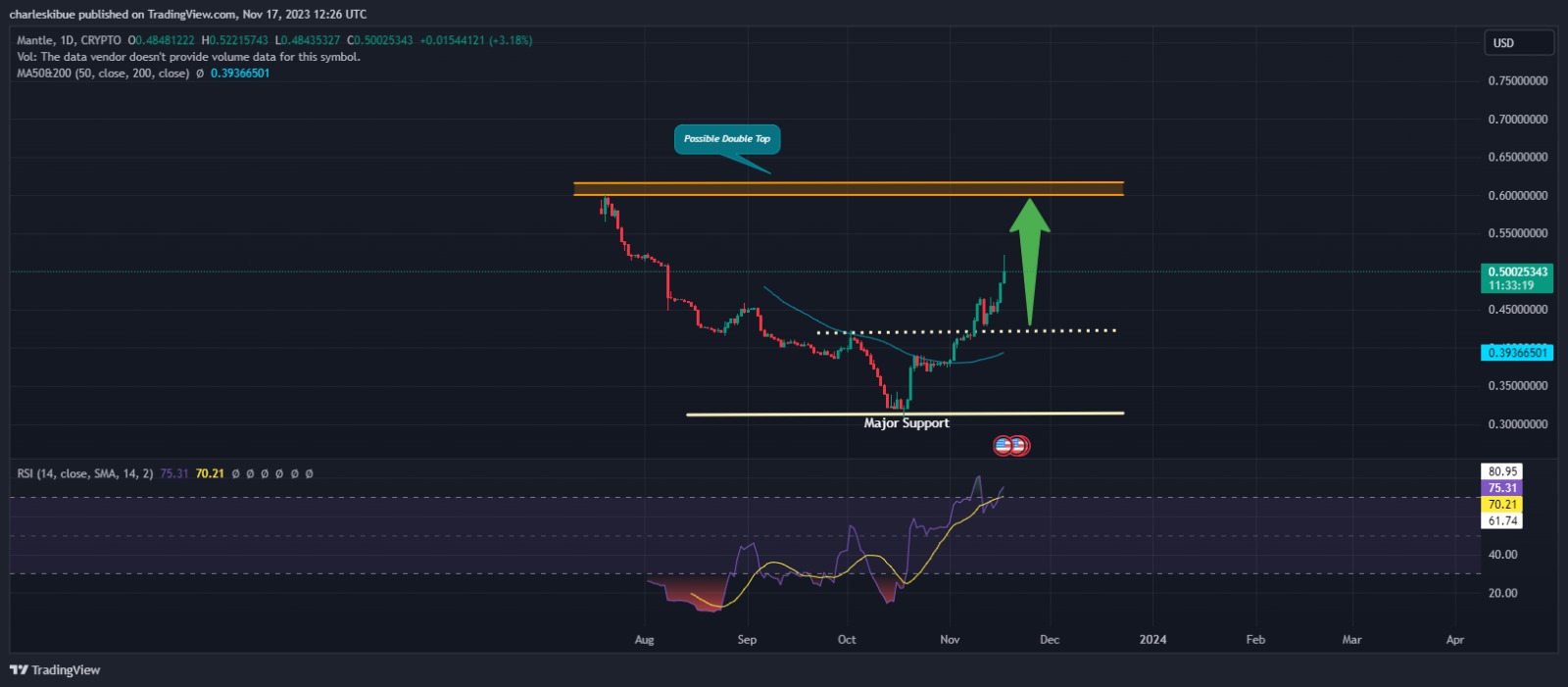 The MNT price is experiencing a resurgence, with the 50-day simple moving average playing a crucial support role. The recent surpassing of this SMA confirms a bullish sentiment for MNT.
Although the relative strength index (RSI) slightly decreased from an overbought level, settling at 66 in a bullish trend, the recent price jump has pushed the RSI back into the overbought region, reaching 72. 
This suggests intense buying pressure, and if the bullish trend continues, there's potential for the RSI to sustain itself in the overbought zone.
The outlook for the MNT price is optimistic, with a target of $0.60 in the coming weeks. Both the RSI and SMA indicators support this bullish perspective. If the current momentum persists, it could propel the price above the $0.60 resistance, reaching $1.10
On the flip side, bears may take advantage of a possible double-top pattern at the $0.60 resistance level to drive the price down and recoup their losses. A candlestick break below the $0.48 support level could prompt bulls to seek refuge in the $0.42 zone.
Investors looking for more upside potential may consider TG.Casino, an emerging online crypto casino showing great potential for rapid growth.
TGC Explodes Past $2.2 Million In Funding, 4 Days Left Until Price Hike
TG.Casino, an innovative venture revolutionizing the casino industry, has already raised more than $2.2 million in its presale. 
Just recently, TG.Casino's KYC received approval from The Verification Gold Standard, marking a milestone in investor security and transparency.
Exciting News!!!

We are proud & excited to announce that our KYC has been APPROVED by The Verification Gold Standard, @AssureDefi ✨✅

Taking a step towards solid investor security and transparency.

View our KYC #Certificate:https://t.co/N940WZJsE3 pic.twitter.com/UNCJyHPUSn

— TG Casino (@TGCasino_) November 10, 2023
TG.Casino allows bets using popular cryptocurrencies like BTC, ETH, USDT, and its native currency, $TGC. 
Betting with $TGC tokens offers the additional advantage of receiving a 25% cashback on any losses, enhancing the betting experience for its holders. 
You can join this game-changing project by acquiring $TGC tokens at a special discounted rate of just $0.16. However, this offer is time-sensitive, as the price will increase in four days. 
Each $TGC token is now valued at $0.16.

So if you bought early, your tokens are now worth more🎉

Let's go players! pic.twitter.com/zZnELxDWfl

— TG Casino (@TGCasino_) November 17, 2023
Attractive Rewards, Staking Earns You 247% APY 
TG.Casino stands out for its rewarding staking program, offering an impressive 247% annual percentage yield, with daily distributions reflecting instantly in user accounts. 
The project ensures that 60% of its profits go to stakers, favouring early participants. In addition, 40% of profits are burned to maintain token scarcity and value growth. 
Presale investors enjoy additional benefits, such as special rewards on the platform, eligibility for exclusive NFTs, and other post-launch rewards for investments over $5,000.
The anticipation surrounding TG.Casino continues to grow, drawing attention from renowned figures in the cryptocurrency community. 
Crypto V.O., a leading voice in the crypto space with a YouTube channel boasting over 314,000 subscribers, has praised TG.Casino, describing it as "the next 100x pre-sale gem." 
In addition to this endorsement, he has detailed the advantages of participating in the presale and the benefits of staking tokens.
Purchasing $TGC tokens is straightforward. Simply visit the TG.Casino website, connect your digital wallet, and exchange ETH, BNB, or USDT for $TGC tokens.
Related News
New Crypto Mining Platform – Bitcoin Minetrix
Audited By Coinsult
Decentralized, Secure Cloud Mining
Earn Free Bitcoin Daily
Native Token On Presale Now – BTCMTX
Staking Rewards – Over 100% APY