After reaching $0.14 today, Kaspa has captured the attention of investors, sparking the burning question of whether the Kaspa hype will continue.
With the cryptocurrency market experiencing a notable rise in the value of certain altcoins, Kaspa has also seen significant growth, reaching new all-time highs and generating excitement among Kaspa enthusiasts.
Given its status as a leading cryptocurrency, Bitcoin's dominance in the market may influence this surge. Currently, Bitcoin has experienced a modest 3.21% pullback, settling at around $36,000.
Despite this, Kaspa's rally doesn't precisely mirror Bitcoin's fluctuations. The overall positive momentum in the broader crypto market over the past month could potentially be influencing Kaspa's ascent.
Kaspa (KAS) price analysis and price prediction
With an impressive year-over-year gain of 1,554%, a 106% increase in the past month, and a notable 42.41% surge in the past week, Kaspa's recent performance is remarkable. As the market cap reaches $2 billion and the current value sits at $0.11, the question arises: Is this cryptocurrency poised for even more significant moves?
Earlier today, Kaspa reached a new all-time high, hitting $0.14, sparking excitement within the Kaspa community. The climb began on November 3rd, propelling the price from over $0.05 to nearly $0.10 by November 9th.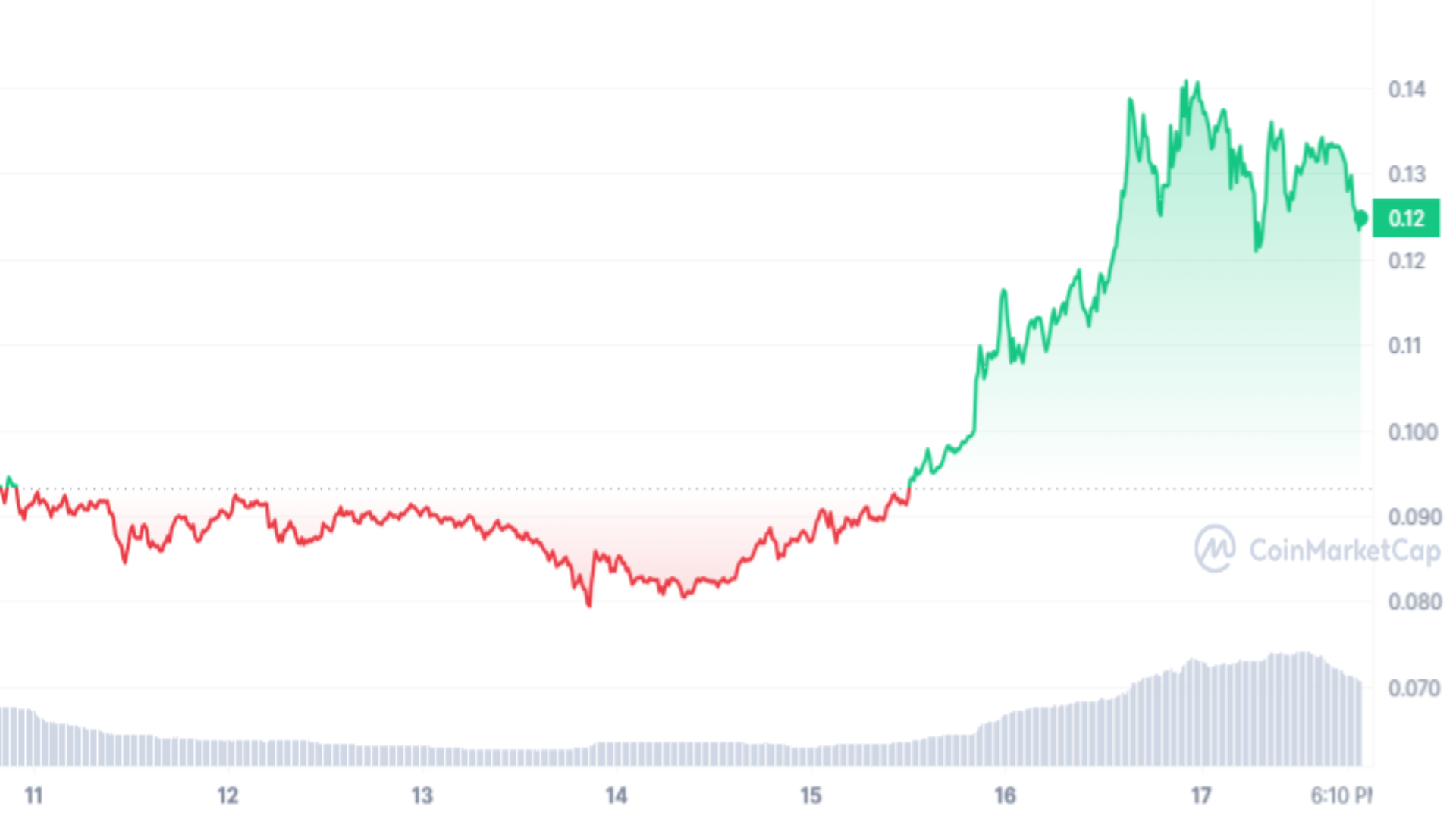 Despite a minor dip three days later, Kaspa quickly recovered, embarking on a three-day climb that surpassed $0.14, resulting in an impressive 90% gain in a short period. While there is an overall positive trend, the day witnesses various climbs and pullbacks, typical fluctuations in a dynamic trading environment.
After reaching a record high of $0.14 today, Kaspa's price experienced a decline to $0.11 amidst a broader cryptocurrency market downturn. Despite this, it still maintains an impressive gain for the day.
Simultaneously, Kaspa's market cap has shown remarkable growth in a short span, elevating Kaspa to the 28th position on CoinMarketCap and surpassing well-known names in the crypto market. Visit our guide to the best altcoins to buy now for 2023 here.
Can recent developments sustain an ongoing increase in Kaspa price?
Kaspa's recent remarkable growth has left the community pondering: what's driving its rapid surge in value? When examining the broader crypto market, particularly Bitcoin, a significant influencer for altcoins like Kaspa, Bitcoin appears to maintain stability at $36k.
However, Kaspa's surge seems somewhat independent of Bitcoin's movements, even though the overall market, including Kaspa, has been thriving recently.
In a recent project update, noteworthy news surfaced from Binance, announcing that Kaspa will soon be tradable on Binance Futures, a platform for trading cryptocurrency contracts that let traders predict future prices and includes perpetual futures that never expire.
🎉Incoming… #Binance Futures will launch the USDⓈ-M KAS perpetual contract at 🗓Nov 17 2023, 02:00 (UTC).https://t.co/cBoKr8d2jI https://t.co/TPbsMPBrYe

— Kaspa (@KaspaCurrency) November 16, 2023
This announcement has generated substantial interest, impacting Kaspa's price, with expectations of heightened trading activity, especially in Binance Futures. Additionally, Kaspa's team has recently integrated with Uphold, enabling the seamless movement of Kaspa coins between Uphold and external wallets.
The excitement continues as Kaspa's team celebrates the project's second birthday with an elaborate campaign. In collaboration with Coinpal, OKX, ICERiver, IGV, and Rhubarb Media, exclusive Kaspa-inspired NFTs will be given away, and a Kaspa airdrop will be hosted, providing participants with the chance to win $1 million.
However, it's crucial to note that this information serves as a sneak peek, and more details will be unveiled soon. If you're looking for other investment opportunities, check out our list of the top crypto ICOs to consider.
Conclusion
As Kaspa continues its upward trend, propelled by recent developments and a strong market, the community wonders if it will hit a new all-time high by year-end. The latest updates have increased excitement. Amid market ups and downs, Kaspa's future path is a focal point, offering the possibility of growth and exciting opportunities.
Related
New Crypto Mining Platform – Bitcoin Minetrix
Audited By Coinsult
Decentralized, Secure Cloud Mining
Earn Free Bitcoin Daily
Native Token On Presale Now – BTCMTX
Staking Rewards – Over 100% APY