Hong Kong is the world's most crypto-ready destination, securing top spot for the second consecutive year in a ranking by Forex Suggest.
The ranking is determined based on factors including the presence and accessibility of cryptocurrency ATMs, the existence of a pro-crypto regulatory framework, the vibrancy of the startup culture, and a fair and equitable tax regime, said Forex Suggest, a foreign exchange education platform.
Hong Kong clinched the top spot with a Crypto Readiness Score (CRS) of 8.36. Switzerland took second place after the US dropped one place to third this year.
While Hong Kong, the United States, and Switzerland retained their coveted positions in the top three, there were new entrants who made their mark in the top 10. Slovenia, Canada, and Australia demonstrated their evolving roles in the dynamic crypto landscape, further emphasizing the global nature of digital finance.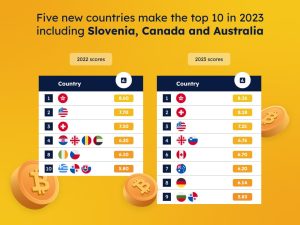 In terms of widespread interest in cryptocurrencies, the Dutch population stood out as particularly enthusiastic on a per-capita basis. Meanwhile, the US boasted the largest network of Bitcoin ATMs globally.
Hong Kong Has Most Crypto ATMs Per Square Foot
Hong Kong led the world in terms of crypto ATMs per square foot, making the most of its compact geographical footprint.
Estonia leads with the highest number of blockchain startups as it rapidly establishes itself as a thriving tech hub in Europe, home to 221 blockchain and crypto firms.
Singapore, ranked, 20th, comes in second among Asian nations as it continues to reinforce its status as a premier destination for technology, trade, and finance. 
Within the US, New York stands out as the most crypto-ready state, achieving a CRS of 9.80. This feat can be attributed to the state's progressive crypto-related legislation and the thriving ecosystem of crypto and blockchain businesses, the report said.
A Game-Changer: 0% Taxation in 12 Countries
Taxation policies are one of the most critical determinants of mass crypto adoption. Twelve countries, including Germany, Panama, and Portugal, have chosen to impose a 0% tax on cryptocurrency gains for individuals, the report said.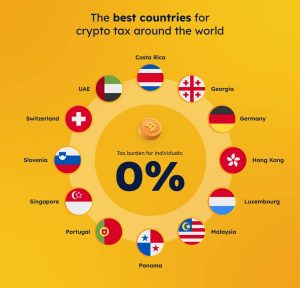 These countries are well-positioned to ascend the ranks in the coming years, attracting both investors and businesses seeking a tax-friendly environment, the report said. 
Diverse Global Approaches to Cryptocurrency
The study's findings highlight a global spectrum of approaches to cryptocurrencies. In some areas, cryptocurrencies are fully integrated into the financial ecosystem, enjoying legal status and widespread acceptance. Conversely, nations like China have opted for outright bans on cryptocurrency trading, aiming to exert tight control over financial markets.
Meanwhile, countries such as Taiwan, Turkey, and Argentina have allowed cryptocurrency trading with a sense of caution. They have been slower to embrace cryptocurrencies for banking and broader financial services, navigating this digital landscape with measured steps. 
The report comes as Hong Kong strives to establish itself as an international cryptocurrency hub. In June, it introduced a new licensing system to regulate cryptocurrency exchanges that offer trading in popular tokens like Bitcoin and Ether. 
Related Articles
Ends Soon – Wall Street Memes
Early Access Presale Live Now
Established Community of Stocks & Crypto Traders
Featured on Cointelegraph, CoinMarketCap, Yahoo Finance
Rated Best Crypto to Buy Now In Meme Coin Sector
Team Behind OpenSea NFT Collection – Wall St Bulls
Tier One Exchange Listings September 27
Tweets Replied to by Elon Musk
Source link