Despite facing a year of volatility, Cronos is a promising altcoin that some experts believe has the potential to experience a 30x increase in the next bull market, projecting a target range of $1 to $3.
Cronos, the native token of the Cronos blockchain, has experienced significant price fluctuations in recent months, yet it has demonstrated resilience.
One factor contributing to Cronos' stability is its strong fundamentals. The cryptocurrency is expected to continue to attract new users and developers, and its price is likely to reflect this growth.
Cronos price analysis
Cronos (CRO) stands as the native token of the Cronos blockchain, a decentralized finance (DeFi) and non-fungible token (NFT) ecosystem crafted by Crypto.com. Since its 2018 inception, CRO has witnessed substantial price fluctuations, displaying noteworthy growth potential.
In November 2021, during the broader cryptocurrency bull market, CRO achieved its all-time high of $0.97. However, its value has since receded, hitting a low of $0.020 in June 2022.
Despite this volatility, recent months have seen CRO exhibit signs of recovery, with its current value trading around $0.09 as of November 2023.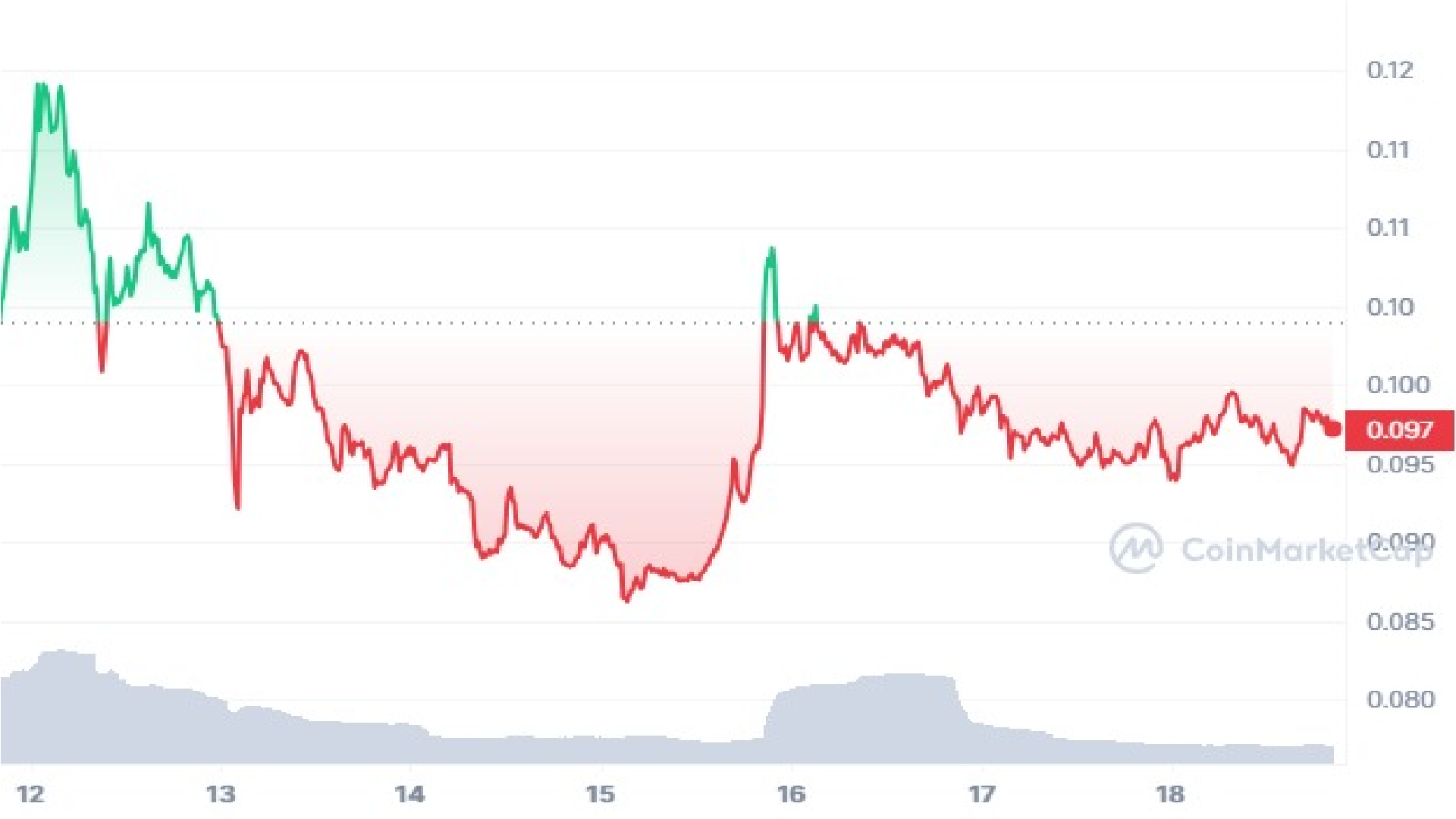 Presently, Cronos commands a market capitalization of $2.4 billion and a traded volume of $19 million, securing its place among the top 30 cryptocurrencies. Recent performance indicates a drop of 7% in the past week, a 88% surge in the past month, a 2% increase in the past 24 hours, and a substantial 38% rise in the past year.
Technical indicators for CRO suggest a current bullish trend, with moving averages on an upward trajectory and the relative strength index (RSI) positioned above the 50 level, signaling that CRO is not oversold.
The regular launch of new applications and projects on the Cronos blockchain is driving the growth and development of the Cronos ecosystem, which could stimulate demand for CRO and bolster its future price.
🎉 Exciting News: Cronos has officially been recognized as one of the Top 10 Layer 1 blockchains!

🏆 A huge shoutout to our incredible #CROFam community for your unwavering support.

🙌 Thank you for being part of the #Cronos journey and here's to reaching new heights together! https://t.co/9xLk8Fferc

— Cronos (@cronos_chain) November 16, 2023
Furthermore, Crypto.com remains committed to promoting CRO through diverse marketing initiatives and partnerships, potentially enhancing awareness of CRO and attracting fresh investors to the token. Visit our guide to the best altcoins to buy now for 2023 here.
Cronos price prediction
In terms of market cap projections, the video outlines potential scenarios for Cronos. To reach $1, the market cap would need to hit $26 billion, while $2 and $3 would require market caps of $50 billion and $75 billion, respectively.
Contextually, the overall crypto market cap presently stands at around $1.4 trillion, with expectations of growth potentially reaching $7 to $10 trillion in the next bull market. Based on current technical and fundamental analysis, CRO appears poised to sustain its upward trend in the near to medium term.
Predictions suggest the token could reach $0.20 by the end of 2023 and $0.50 by the end of 2024. It's crucial to recognize the inherent volatility of the cryptocurrency market, with any price projection subject to change.
The video underscores the interconnected nature of the crypto market, highlighting that Bitcoin's performance often dictates the movement of altcoins. Following Bitcoin's 1.6% decline, other altcoins in the crypto sphere have also exhibited negative trends in the daily overview.
Nevertheless, considering the past month's 28% increase in Bitcoin, there is optimism that altcoins, including Cronos, could potentially follow suit and experience growth.
Cronos (CRO) emerges as a promising cryptocurrency, backed by a strong team and a growing ecosystem. The token's current bullish trend suggests the potential for significant price growth in the future.
If you're looking for other investment opportunities, check out our list of the top crypto ICOs to consider.
Related
New Crypto Mining Platform – Bitcoin Minetrix
Audited By Coinsult
Decentralized, Secure Cloud Mining
Earn Free Bitcoin Daily
Native Token On Presale Now – BTCMTX
Staking Rewards – Over 100% APY