Bitcoin (BTC) remains above the 50-day moving average (MA), despite shedding off some value in the last 24 hours.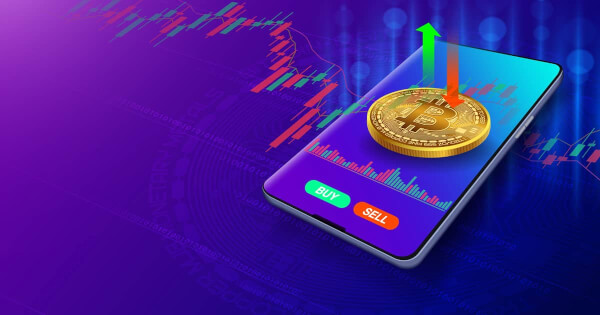 The leading cryptocurrency was down 1.64% to hit $43,435 during intraday trading, according to CoinMarketCap.
Market analyst Lark Davis believes that BTC made a bullish retest because it is still trading above the 50-day MA.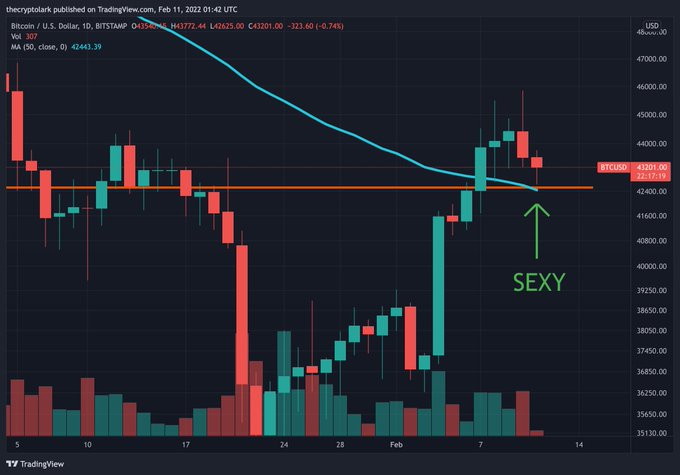 Source: TradingView
Davis had previously noted that price above the 50-day MA was bullish, but its viability was dependent on how planned interest rate hike by the U.S. Federal Reserve (Fed) would play out. He stated:
"50-day moving average retaken for Bitcoin. The last two times we crossed over this line, BTC rallied by 54% and 47%. If history rhymes, then we could see BTC rallying up into the 60k range in the next few weeks. PS Biden executive order could still spoil the fun or add rocket fuel."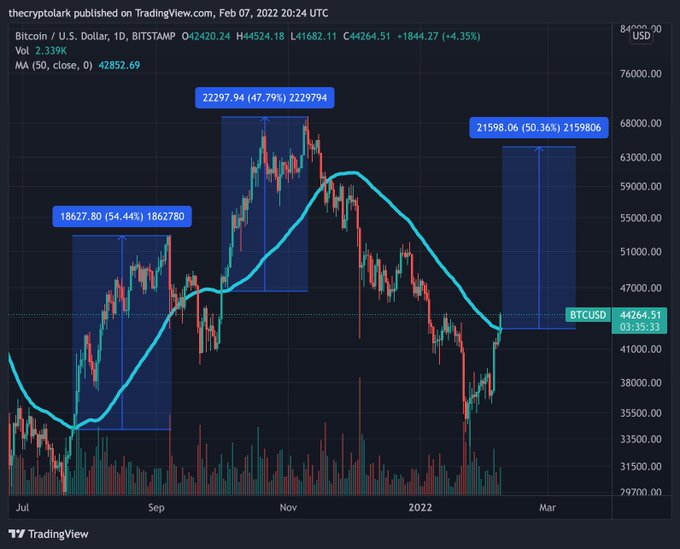 Source: TradingView
Nevertheless, the $43,100 level is a crucial area to watch because Bitcoin needs to hold it to avoid a slip back to $38,000.
The 50-day MA is a technical indicator that shows the average price paid by investors to obtain the asset in the last two and a half months, approximately 10 trading weeks. In trading circles, this indicator is crucial because it helps investors gauge whether an asset is showing strength or weakness based on its current price relative to the position of the line.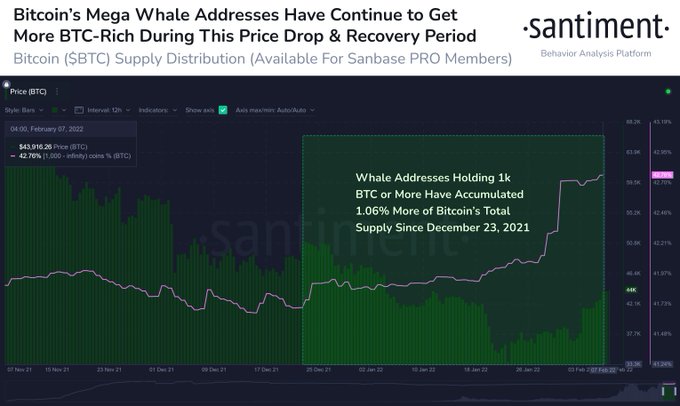 Source: Santiment
Meanwhile, Bitcoin whales continue with their accumulation spree, staking 220,000 BTC in the last seven weeks.
"Mega whales of Bitcoin have accumulated significantly the past 7 weeks. Addresses with 1,000 BTC or more have added a combined 220,000 BTC to their combined wallets since December 23rd, the most rapid accumulation we've seen since September 2019," according to market insight provider Santiment. 
Image source: Shutterstock