Each day, we review some picks for the best cryptos to buy now based on the latest market movements, blockchain news, and trending narratives.
In recent news, the cryptocurrency market reflects a slight decrease in overall market capitalization, at $1.41 trillion. Thus marking a decrease of 0.97% over the past 24 hours. However, the 24-hour trading volume has shown an increase of 16.61%, now totaling $251.52 billion.
Best Crypto to Buy Now
These fluctuations in market capitalization, trading volumes, and individual coin performance indicate ongoing activity within the cryptocurrency space. The marginal variations in Bitcoin's price and dominance highlight a relatively stable yet dynamic environment for investors and traders.
1. Maker (MKR)
The Maker (MKR) Coin has experienced notable growth since its inception, with a 128% price increase over the past year. It trades above its 200-day simple moving average on Binance, signaling a positive trend. Moreover, the coin's high liquidity, reflected in its market cap, indicates robust market activity.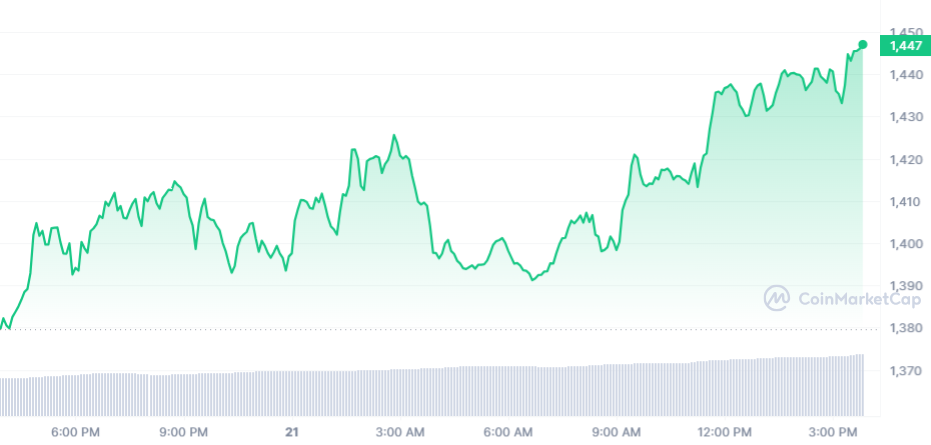 Furthermore, MKR is ranked sixth in the DeFi Coins sector and thirteenth among Ethereum (ERC20) Tokens. Notably, its circulating supply stands at 977,631 MKR out of a maximum supply of 1.01 million MKR.
Analysts express a bullish sentiment regarding Maker's price prediction, alongside a Greed score of 71 on the Fear & Greed Index. This showcases investors' interest in the token and makes it the best crypto to buy now.
⚡️ @sparkdotfi's user experience is being boosted through the following changes, scheduled for deployment tomorrow, November 21, at 15:45 UTC:

• WBTC market reactivation allows users to borrow DAI using WBTC collateral.

• Spark D3M increases from 400 million DAI to 800… pic.twitter.com/XNGunt2z42

— Maker (@MakerDAO) November 20, 2023
In addition, the Maker DAO platform holds genuine use cases. It actively engages in several new initiatives, contributing to its promising long-term outlook. As such, forecasts suggest a maximum price of around $1,612.29 if the market recovers. The average projected price for MKR by 2023 stands at $1,422.61. Conversely, in the event of a significant bearish trend, the projected minimum price could be $1,232.93 by 2023.
2. Gas (GAS)
Is GAS the best cryptocurrency to buy now? Gas has seen a remarkable price surge over the past year, with a substantial increase of 308%. This surge has placed it above 91% of the top 100 crypto assets. As such, the token has outperformed major players like Bitcoin and Ethereum. 
Notably, Gas is trading above its 200-day simple moving average, indicating a bullish trend. In the last 30 days, it has seen 18 positive trading days, representing a 60% positive trend. A commendable market cap supports the asset's robust liquidity. Likewise, actively trading on Binance enhances its accessibility within the market.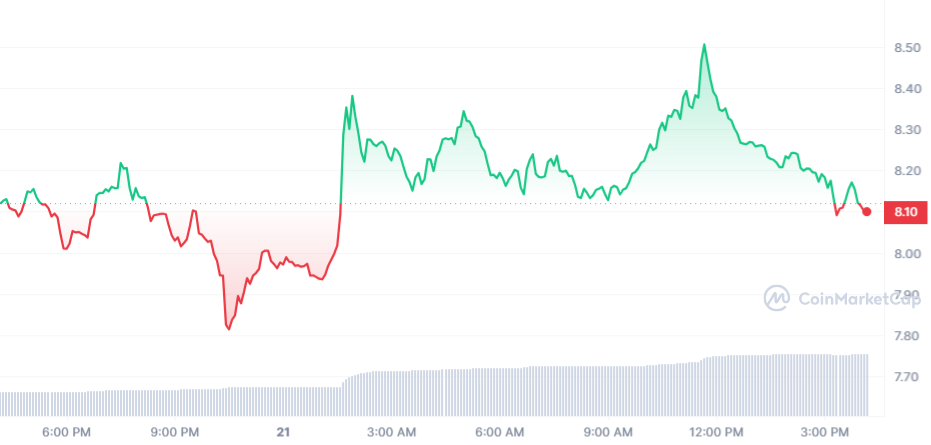 Gas is priced at $8.22, with a 24-hour trading volume reaching $280.06 million. With a market dominance of 0.04%, Gas holds a market cap of $535.26 million. Over the past 24 hours, Gas has experienced a modest 1.22% price increase.
Based on historical data, Gas reached its peak price on January 16, 2018., hitting an all-time high of $106.25. In contrast, it recorded its lowest on March 13, 2020, dropping to $0.581059. After its all-time high, the lowest price reached $0.581059, while the highest post-cycle low surged to $29.06. 
🛠️ #Neo-CLI v3.6.2 has been released.

TestNet will be upgraded on Nov 21st. MainNet will be upgraded on Dec 4th.

Dive into the details of the developments below.https://t.co/ol31f78BXl

— Neo Smart Economy (@Neo_Blockchain) November 20, 2023
Presently, market sentiment indicates a neutral stance on Gas's price prediction. Simultaneously, the Fear & Greed Index reports a sentiment of 71, indicating a state of 'Greed' in the market. Gas currently circulates 65.09 million tokens out of a maximum supply of 100 million. 
Moreover, the yearly supply inflation rate stands notably high at 542.65%. This resulted in the creation of 54.96 million Gas tokens over the last year. Within the NEO Network sector, Gas holds the #2 rank in terms of market capitalization.
3. Helium (HNT)
The Helium Wallet v2.4.0 introduces significant upgrades for the Helium community. These include an automatic fee management feature, allowing users to pay Solana fees using various tokens. 
Additionally, there's an integration with JupiterExchange for improved token swaps within the Solana ecosystem. This comes with fixes aimed at smoothing the onboarding process for Wi-Fi-capable hotspots.
These new features have triggered the attention of the crypto market. As such, HNT has grown in the past few days, placing it among the best crypto to buy now. Furthermore, Helium is displaying positive trends in market performance, trading above its 200-day moving average over the last 30 days. 
Currently priced at $2.11, with a trading volume of $2.28M and a market cap of $303.93M, Helium has experienced highs and lows. The token reached $55.17 in 2021, hitting its lowest point at $0.200066 in 2020. Despite market fluctuations, the coin has shown resilience, hitting a post-downturn high of $2.58. 
Moreover, the sentiment toward Helium's price prediction is bullish, backed by a Fear & Greed Index at 71 (Greed). Regarding supply metrics, there are 143.93M HNT in circulation out of a maximum supply of 223.00M. 
📱Helium HNT Wallet v2.4.2 is here!🎈(Android & iOS)

This v2.4.2 release contains important bug fixes for new hotspot owners onboarding wifi hotspots.

The developers of the Helium ecosystem recommend an upgrade to v2.4.2.

App Store: https://t.co/jo12zhgFNW

Google Play:…

— Helium🎈 (@helium) November 15, 2023
However, an annual inflation rate of 10.11% resulted in 13.22M HNT in the last year. With the recent positive price movements, Helium's current standings place it at #44 in Ethereum (ERC20) Tokens. Likewise, it is positioned #54 in the Layer 1 sector based on market capitalization.
4. Bitcoin ETF Token (BTCETF)
With a well-shown investor interest, Bitcoin ETF Token is well-placed as the best crypto to buy now. The BTCETF Token focuses on a novel approach to capitalize on the potential approval of a Bitcoin Exchange-Traded Fund (ETF). This project aims to provide investors with a simplified avenue to leverage this anticipated development by consolidating it into a single token.
Experts in the field have indicated that approving a Bitcoin ETF could increase Bitcoin's value by 1-3 times its current price. BTCETF seeks to distinguish itself by targeting the ETF approval process, suggesting the possibility of higher returns due to its smaller market capitalization.
BTCETF has raised $1,285,688 out of its $1,750,201$1,310,400 funding goal, showcasing substantial interest among prospective buyers. This surge in investor attention positions the token as a notable option in the cryptocurrency market. 
@ARKInvest persists in its push for a spot #BitcoinETF, filing another update for the #ARK 21Shares Bitcoin ETF with the #SEC.

The journey continues! 🚀

Do you think we'll see a #Bitcoin #ETF approved in 2024?#BTCETF has also now raised over $1.2 Million! ✅ pic.twitter.com/jh06EPQiqU

— BTCETF_Token (@BTCETF_Token) November 20, 2023
5. Gnosis (GNO)
GNO has been on an upward tick in the past 30 days. However, is it the best crypto to buy now? Gnosis' recent collaboration with Kinetex and Factor is a significant stride toward bringing Kinetex's innovations to the market. This partnership aims to refine Kinetex's cross-chain trading strategy by integrating zero-knowledge (Zk) technology.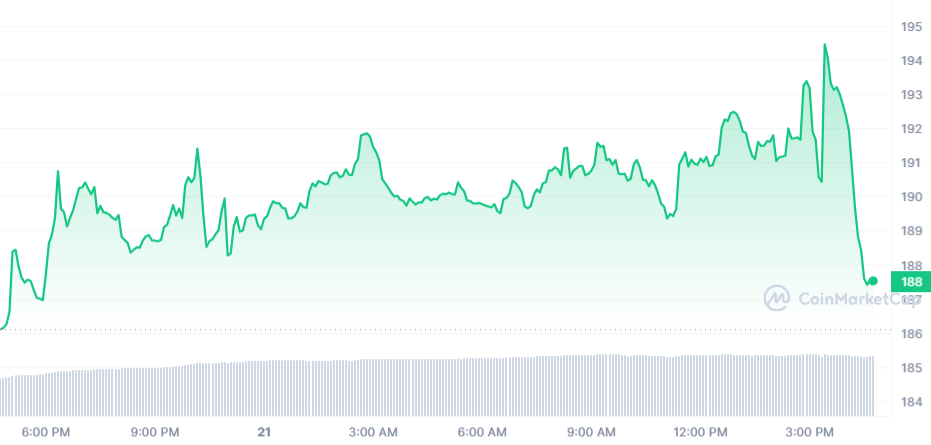 The ultimate aim is to contribute to a decentralized, inclusive, efficient, and accessible DeFi ecosystem. Kinetex is on the verge of completing the testing phase for its Flash Trade mode. This mode introduces a resolving-based cross-chain approach. It involves a decentralized network of professional resolvers who compete to fulfill user orders.
Furthermore, this approach aims to resolve issues in current cross-chain setups, such as price fluctuations, MEV attacks, and prolonged transaction times. The entire process is automated, resembling a standard swap on centralized exchanges. When evaluating the project's performance, several key indicators stand out.  
The winner of the Decentralised Scaling Summit pitch competition's $5000 prize has been determined! 🥁

We're happy to declare @0xKYCinc as the winner🎉

The judges were impressed by @Jscottozz's presentation of their "Sunscreen" solution, operating at the intersection of… https://t.co/b3siT59QVB

— GnosisDAO (@GnosisDAO) November 18, 2023
Over the past year, Gnosis has experienced a 135% price surge, outperforming 84% of the top 100 crypto assets. It has also demonstrated superior performance compared to benchmark cryptocurrencies like Bitcoin and Ethereum. These positive price movements have made GNO the best crypto to buy now.
Moreover, the asset trades above its 200-day simple moving average and has seen positive trading activity on 19 days in the last month, accounting for 63% of the period. The token is nearing its cycle high and maintains high liquidity based on its market capitalization.  
Read More
New Crypto Mining Platform – Bitcoin Minetrix
Audited By Coinsult
Decentralized, Secure Cloud Mining
Earn Free Bitcoin Daily
Native Token On Presale Now – BTCMTX
Staking Rewards – Over 100% APY