The broader crypto market is on a slow recovery following massive sell-offs that graced the opening weeks of 2022. Crypto bellwether Bitcoin is currently trading in the green zone after sliding well below the $30,000 support price in January. This reprieve has seen other altcoins make a rally, as investors search for top altcoins to buy for long term returns.
This review we will be exploring 5 top altcoins to buy as the year picks up steam.
1. Lucky Block (LBLOCK)
Lucky Block has everything going great for it and is one of the top altcoins to buy for massive growth. Launched in the tail-end of January 2022, the Binance Smart Chain (BSC)-based protocol has been on a tear surging as high as 538% on the first three days of getting listed on decentralised exchange (DEX) platform PancakeSwap. Lucky Block has since gone on to hit well above 1,300% increase and reached $0.003135 in record figures.
The protocol's success is tied to its strong use case. The Lucky Block protocol is meant to revolutionise the online gambling industry by addressing all the bottlenecks conventional operators are faced with.
This includes a murky playing model, non-inclusiveness, and lower odds of winning. Lucky Block provides a better and more decentralised playing model, allowing anyone in any region of the world to participate while enabling a transparent and fair playing system.
The Lucky Block platform also comes with an investment option and charitable arm which donates as much as 10% of jackpot winnings to the less-privileged. This goes a long way to show the protocol's potential.
The Lucky Block has since gone on to list on popular crypto data aggregator websites Coinmarketcap and CoinGecko, in a very short time.
The native token LBLOCK is currently trading in the red zone and is down 11.33% in the last 24 hours. This sees the BEP-20 token trading at $0.001051 following a strong bearish push back in the past few days. However, a fully diluted market cap of $104 million points to a lot of growth margin for investors who buy now for a bargain.
2. Solana (SOL)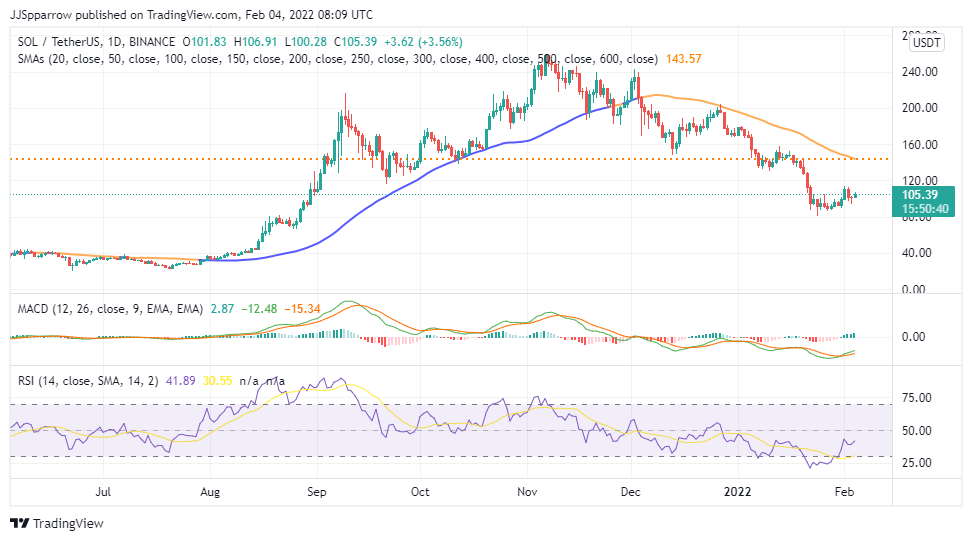 Solana has been the brunt of a series of bad press in the last couple of weeks but the popular Ethereum rival still remains one of the top altcoins to buy as the DeFi heat picks up.
Running on a hybrid infrastructure of proof-of-history (PoH) and proof-of-stake (PoS) consensus algorithms, Solana is one of the fastest smart contract platforms.
The high-performance, censorship-resistant blockchain protocol aims to engender the wider adoption of decentralised finance (DeFi) services by everyone. Following the use of a hybrid structure, Solana is reputedly much faster, more energy-efficient, and cost-effective than Ethereum which still relies heavily on the outmoded proof-of-work (PoW) consensus protocol.
This has seen several decentralised applications (dApps) focused on DeFi, non-fungible tokens (NFTs), and the Metaverse ecosystems deployed on the Solana blockchain.
Keeping in tandem with its mission to revolutionise the entire payment system, Solana has recently partnered with USDC stablecoin maker Circle to launch the SolanaPay platform. This will enable merchants and users alike to make payments seamlessly with USDC using SolanaPay.
At press time, SOL is trading in the green zone and is up 6.17% in the last 24 hours. This puts the governance token at a current price peg of $105.39. The moving average convergence and divergence (MACD) indicator is currently pointing to a buy signal making SOL one of the top altcoins to buy for long term growth.

3. Cardano (ADA)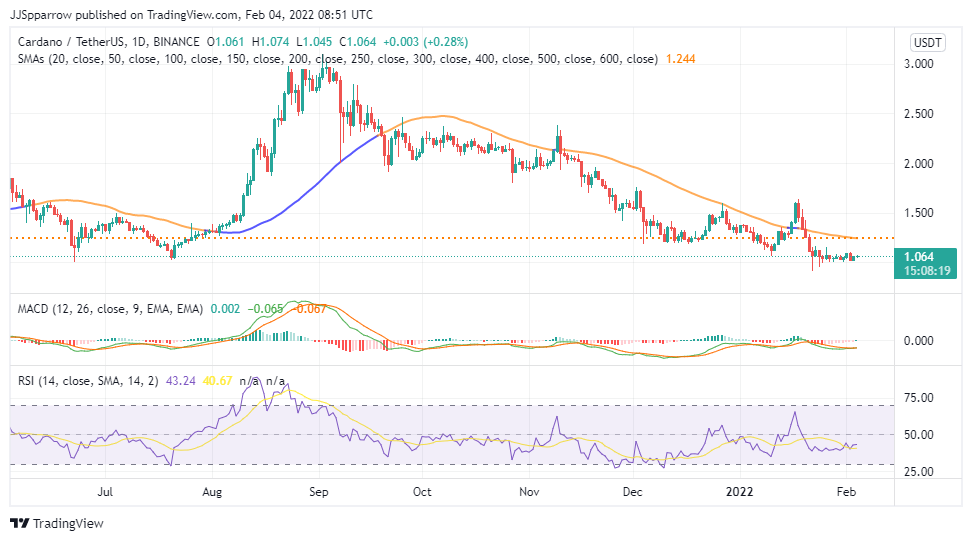 The Cardano network is a PoS blockchain protocol that aims to create a more interoperable, scalable, secure, and low-cost blockchain experience for users and developers alike. Using a peer-review approach in developing its protocol, Cardano is among the top altcoins to buy for 2022.
For one, Cardano is more energy-efficient than Bitcoin and Ethereum combined making it an ideal investment option for ESG-minded investors.
Another strong metric is the systemic approach the Cardano development team are employing in fleshing out their protocol. This ensures that all updates and hardforks are vetted by a body of experts rather than deploying and trying to salvage a bad hack. This makes Cardano a highly secure protocol from the get-go.
Despite trailing competitors in the DeFi race, Cardano has continued to enjoy massive adoption. In a recently released monthly analytics, native token ADA has seen an increase of 12.24% in the number of wallets currently holding the digital asset. This puts the wallet figure approximately at 3 million with over 1 million wallets created in the last 3 months.
The Cardano team has also partnered with Japanese company Emurgo to launch a dApp-focused tool stack to help developers launch better smart contracts on the Cardano network.
At press time, ADA is currently trading at $1.064, up 2.62% in the last 24 hours.
4. Terra (LUNA)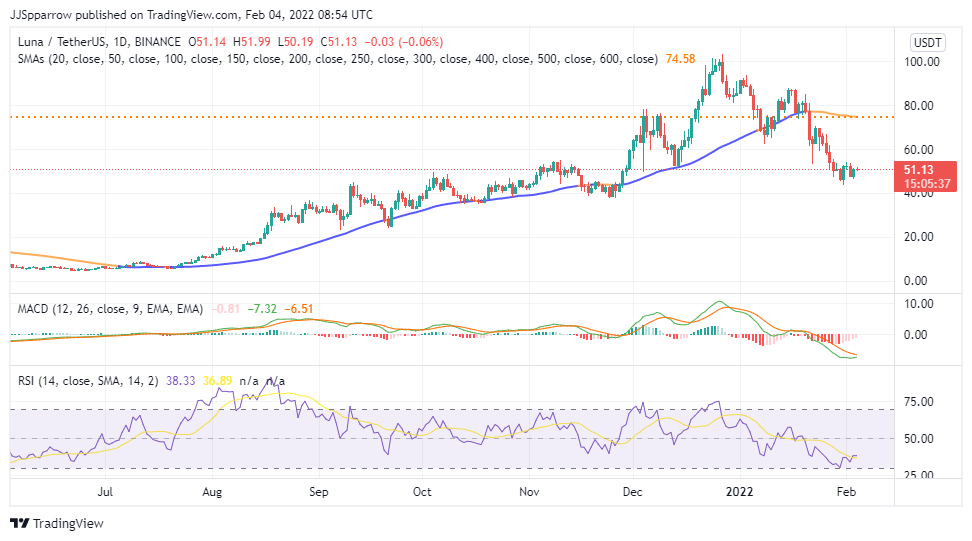 The Terra blockchain has been a revelation in the past year. Following a remarkable run of form, the stablecoin-focused smart contract platform shot up the crypto ranks and currently sits on 9th spot of the most valuable crypto asset by market cap. This places Terra among the top altcoins to buy for potential yields in the coming months.
The Terra blockchain has enjoyed a flurry of adoption and was recently tapped by decentralised exchange (DEX) platform Benqi Finance for the launch of its liquidity staking phase. This will see AVAX liquidity pool operate in tandem with the Anchor Protocol and Terra Money. At press time, LUNA is trading at $51.13, up 5.10% in the last 24 hours.
5. Avalanche (AVAX)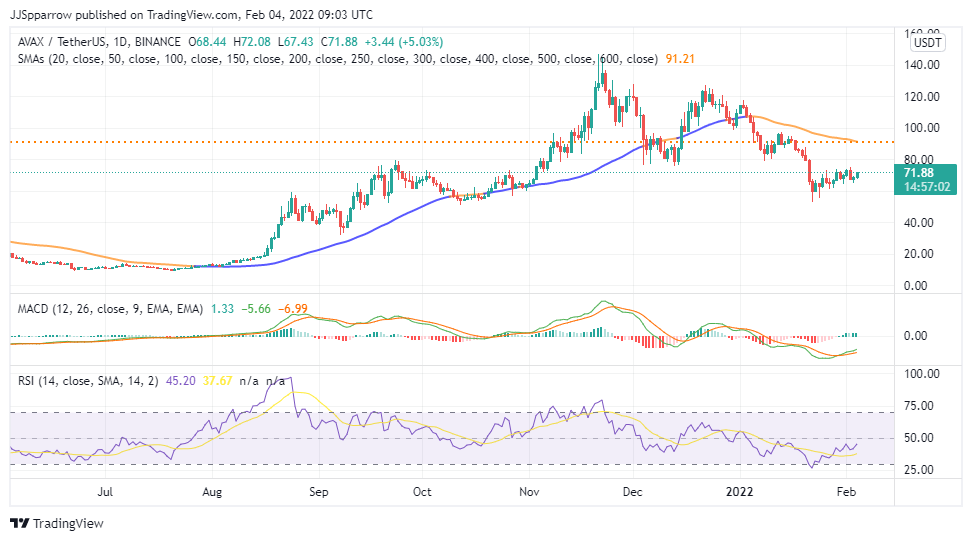 The Avalanche blockchain is another top altcoins to buy for long term growth. Self-billed the fastest blockchain protocol based on time-to-finality metrics, the Avalanche network enables the building of dApp protocols on its layer-1 platform.
Avalanche has steadily risen through the ranks and is one of the top altcoin protocols investors are currently paying attention to. At press time, governance token AVAX is currently trading at $71.58, up 6.21% in the past day. This is further buttressed with a weekly gain of 12.15% in the past seven days.
Avalanche blockchain has recently been tapped by 0x protocol. This will enable multi-chain NFT swaps across several key smart contract platforms.
Read more: