The cryptocurrency market has risen again after a difficult few weeks. Its total cap reached as high as $2.14 trillion yesterday, having been as low as $1.8 trillion the week before. It has since calmed a little to $2.07 trillion, but is still up compared to a week ago. While most coins have risen over this timeframe, we're focusing on cheaper coins in this article, which potentially have a bigger upside. Accordingly, here's our 5 best cryptocurrency to buy on low prices. This covers coins priced at around $100 or under.
5 Best Cryptocurrency to Buy on Low Prices
1. Lucky Block (LBLOCK)
LBLOCK is up by 6% in the past 24 hours, rising to $0.00232698. This means it's up by 28% in the past week, having reached an all-time high of $0.00263227 nearly a day ago.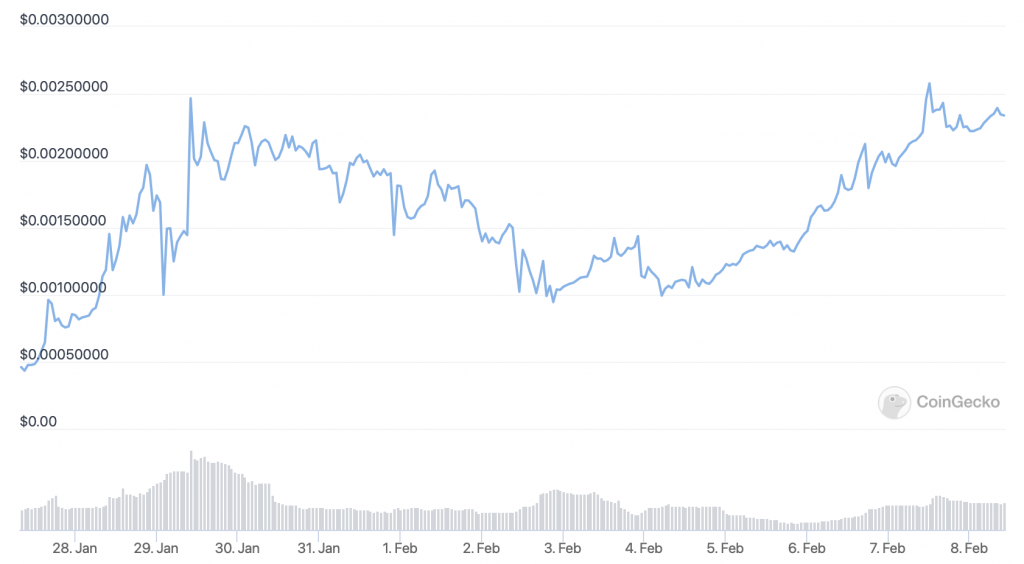 The main cause of LBLOCK's rally in the past few days is the news of its listing on the LBANK Exchange. While PancakeSwap had already listed LBLOCK upon its launch over a week ago, LBANK's move represents the first listing of the altcoin on a centralised platform. Lucky Block's announcement of this news some 22 hours ago resulted in the coin spiking to a new ATH.
???? Important announcement regarding @LBank_Exchange listing! ????

Make sure you join our telegram and be first to know about future announcements! ????

???? https://t.co/4MigxHlmDP pic.twitter.com/a0xM7tKQgM

— Lucky Block (@luckyblockcoin) February 7, 2022
More generally, LBLOCK is one of the more promising newer altcoins to watch for 2022. It's the native token of the recently launched Lucky Block lottery platform. Running on Binance Smart Chain, it can be used to enter Lucky Block lottery draws, with the first such draw taking place on March 25th, 2022.
After this date, Lucky Block will hold regular draws. Ticket holders will have the chance to win 70% of each lottery's jackpot fund, while token holders who don't enter still gain an equal share of 10% of the same fund.
Investors can currently trade LBLOCK with BNB on PancakeSwap, and from February 11 on LBank. With more listings likely to soon follow, it could rise to new heights soon.
2. The Sandbox (SAND)
SAND is down by 3% in the past 24 hours, having dipped to $4.45. On the other hand, it's up by 8% in the past week and by 47% in the past fortnight.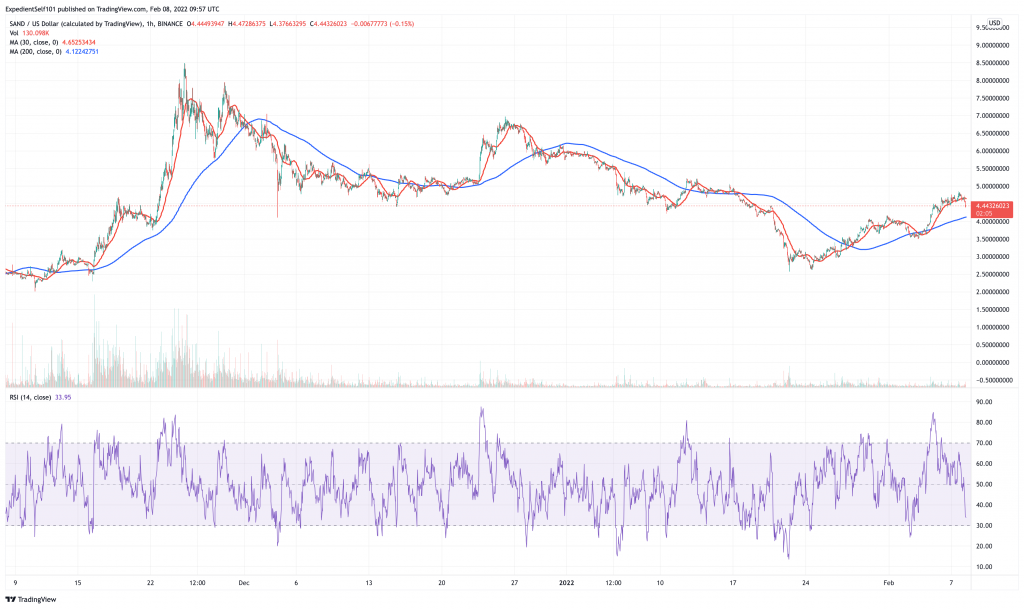 Interestingly, SAND is still down by 4.4% in the past month, while it's indicators suggest that it's strangely oversold. Its relative strength index (in purple above) is nearing 30, while its 30-day average (in red) is in danger of falling below its 200-day (in blue).
Yet SAND remains a fundamentally strong coin. Its native platform, the Sandbox, is one of the most successful NFT-based metaverse blockchains in crypto. It had a very good 2021, selling one plot of land for $4.3 million at the start of December. It also turned over $86 million in land sales in the last week of November alone, more than Decentraland and any other platform
Meanwhile, its parent company, Animoca Brands, raised a whopping $358 million last month. This comes in addition to the $93 million it raised from major VC fund SoftBank at the beginning of November. With this kind of capital, it has the means to grow even further, which is why it's one of our 5 best cryptocurrency to buy on low prices.
3. Ripple (XRP)
At $0.862139, XRP is up by 13% in the past 24 hours. It's also up by 39% in the past week and by 15% in the past month.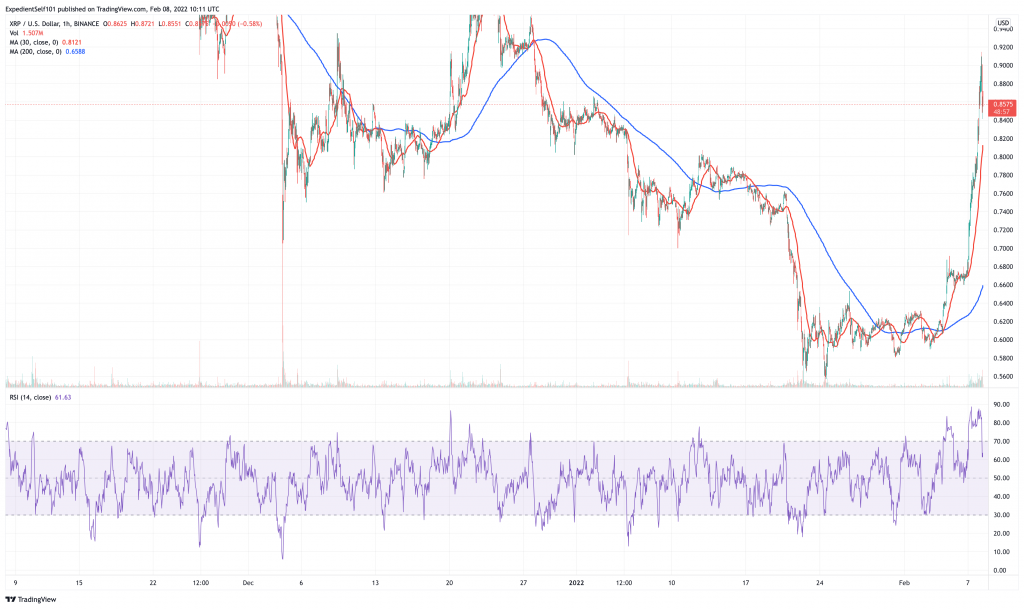 XRP's indicators have gone almost parabolic after a period of steep decline. It was long overdue a big resurgence, having fallen by as much as 56% since early November. And now it seems as though it is making it's much-awaited comeback.
And the thing is, there's the possibility that it could rise even higher later this year. This all depends on the outcome of Ripple's legal battle with the SEC, which Ripple is confident it will emerge well from. For instance, it recently bought back its own shares at a valuation of $15bn, which it had sold in its 2019 Series C round. This could be a sign that it will conduct an initial public offering once the case is resolved, something CEO Brad Garlinghouse has alluded to previously.
Excited to announce @Ripple bought back our Series C (Dec 2019) shares at a $15B valuation! 1/4

— Brad Garlinghouse (@bgarlinghouse) January 26, 2022
On top of this, the wider cryptocurrency community seems convinced that Ripple will secure a good settlement with the SEC. This is largely because evidence continues to emerge which makes the SEC's case look weaker, including a video in which former SEC chair Jay Clayton appears to describe as SEC policy the view that ethereum is not a security.

The SEC case against Ripple is over.

???????? https://t.co/pBxyTdVuIv

— Ryan Selkis ???? ???????? (@twobitidiot) January 25, 2022
Of course, with the discovery period not likely to end until March at the earliest, investors will have to wait a while longer for their payoff. But if Ripple does get the outcome it wants, XRP will jump massively.
There's no silver lining in this ruling granting the SEC extensions of time – even if the order on the Motion for Reconsideration is eventually upheld.

Now discovery won't conclude until March at the earliest.

This case is like watching Yoda's death scene over and over and over https://t.co/D2irtYZYj2 pic.twitter.com/wWvMu55E6e

— Jeremy Hogan (@attorneyjeremy1) January 24, 2022
4. Gala (GALA)
GALA has dropped by 9% in the past 24 hours, falling to $0.339071. However, this represents a 70% rise in the past week, as well as an 83% jump in the past fortnight.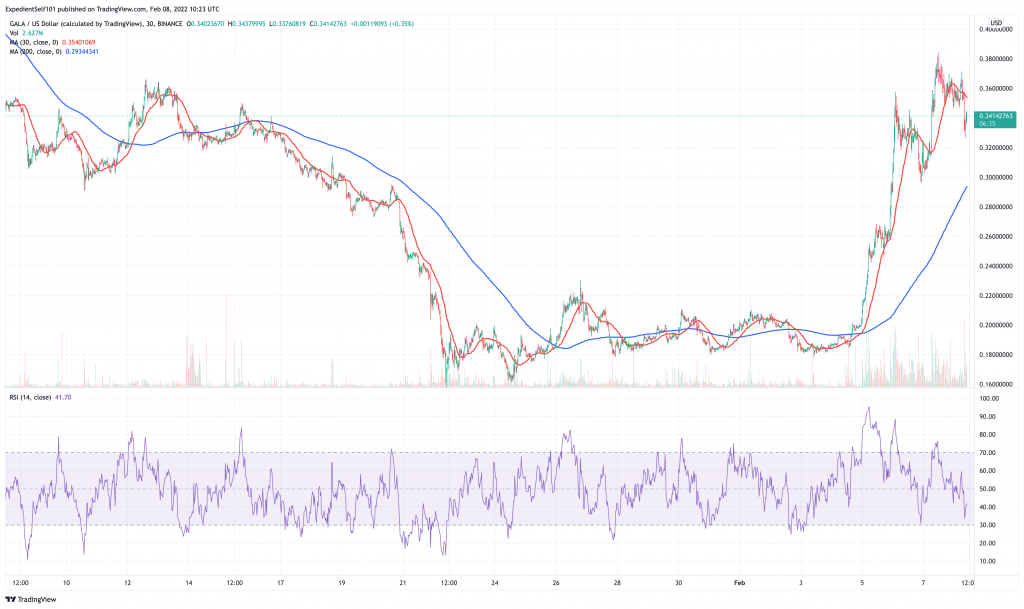 GALA is another coin making up lost ground. It was one of the biggest losers during the recent downturn, but is making a strong comeback, even if it has stalled today.
And despite rising strongly in the past few days, it's still 59% below its all-time high of $0.824837. This means it has plenty of room left to rise.
And Gala has promising fundamentals. As the native token of the of Gala Games platform, it's set up well to ride the metaverse wave this year. Gala runs on the Ethereum platform and lets developers build blockchain- and NFT-based games. Impressively, it announced plans towards the end of last year to spend around $1 billion on the development of its ecosystem.
Two main takeaways from the @GoGalaGames Spider Tank World Cup in Seoul:

1.) We are built differently and we will always and consistently drive to level up…always.
2.) We announced that we are going to deploy $1b USD into game development in Korea. https://t.co/nvQEYgl3kQ

— Jason Brink aka BitBender (@BitBenderBrink) November 28, 2021
More recently, Gala has announced a range of new games coming to its platform, including Legends Reborn and SpiderTanks. These indicate how quickly its ecosystem is growing.
Happy Lunar New Year! ????

Check out this new tank that the GAMEDIA team is working on… coming soon! ????#YearOfTheTiger #GalaGames #SpiderTanks #playtoearn #blockchaingames pic.twitter.com/2kqy1cn1TZ

— Gala Games (@GoGalaGames) January 31, 2022
In fact, according to Gala Games' website, 1.3 million active users and has now racked up around 26,000 NFT sales. And with the company launching a new, $100m development fund in December, it's likely to continue growing. This is why it's one of our 5 best cryptocurrency to buy on low prices.
5. Theta Fuel (TFUEL)
TFUEL is down by 7% in the past 24 hours, to $0.204608. That said, it's up by 13% in the past week and by 54% in the past fortnight.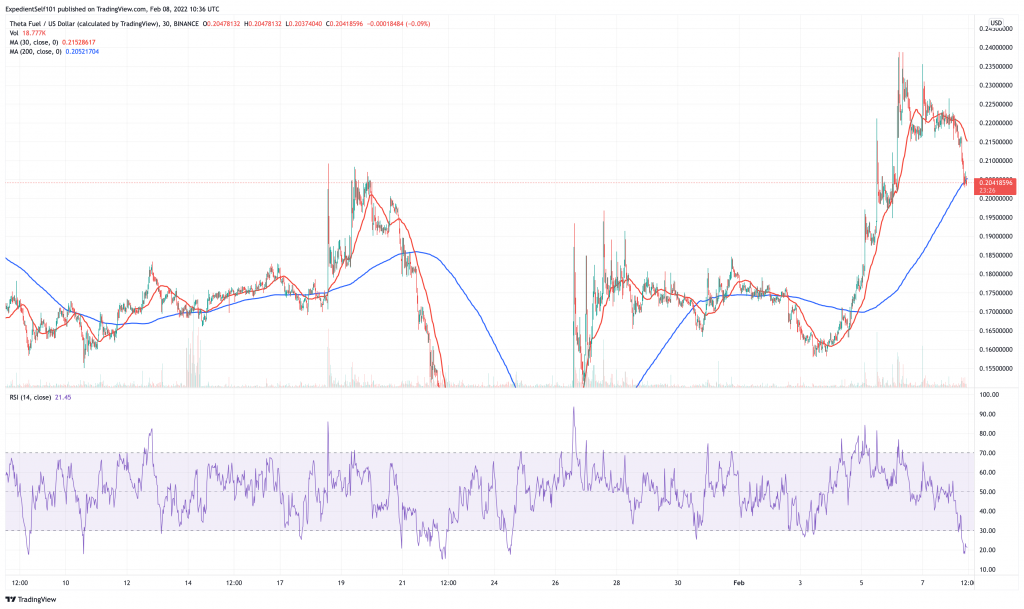 TFUEL has sunk a little today after recovering strongly in the past few days. Its RSI has fallen to 20, indicating that it's oversold.
The native token of blockchain-based video-streaming platform Theta, TFUEL has doing well recently for various reasons. For one, the much-anticipated ThetaDrop NTF marketplace launched last week, with an airdrop of new TDROP tokens taking place to coincide with the release. Going forwards, this launch will increase demand for Theta's platform and, by extension, for TFUEL. So while it has come down following the excitement of the launch, the long-term trend is likely to be upwards.
Theta has also witnessed a number of important collaborations and launches in recent weeks. Its partnership with the Curate NFT marketplace spurred another small rally last month, while more recently it announced a tie-in with entertainment group Entain.
We're looking forward to innovating in the sports and entertainment metaverse with @EntainGroup, the leading global sports betting, gaming and interactive entertainment company! More details coming soon on our first collaboration with their @partypoker brand https://t.co/ZnopK5clle

— Theta Network (@Theta_Network) January 31, 2022
Capital at risk
Read more: