A Manhattan couple – including prominent tech CEO and rapper Heather Morgan, and her husband Russian-American dual citizen Ilya Lichtenstein – were arrested and the largest amount of cryptocurrency assets of all time seized, worth $4.5 billion.
The crypto funds included 119,754 Bitcoin stolen in the 2016 Bitfinex exchange hacking which the US Department of Justice tracked to Lichtenstein's crypto wallet. Read the DOJ statement.
Unus Sed LEO (LEO), the native utility token of Bitfinex which functions in a similar way to Binance coin (BNB) then pumped 50% when the news hit Twitter.
What is LEO token?
Holders of ERC20 token LEO receive a 15% reduction in taker fees on Bitfinex exchange, and lower fees when lending, depositing and withdrawing. The price of LEO is currently $7, having spiked from $3.50 last week to a high of $8 today – some traders appear to have caught wind of the DOJ announcement in advance and bought LEO, making over 100% gains.
With a $6.5 billion marketcap, LEO is ranked #25 on Coinmarketcap.com, between Tron (TRX) and Algorand (ALGO). FTX token (FTT) the native token of FTX exchange, is close behind at #28.
Binance Coin (BNB) is ranked #4 behind only Bitcoin, Ethereum and Tether (USDT).
Holding native coins of exchanges has been a good investment strategy over the past years – similar in a sense to 'betting on the house' by owning shares in a casino. As crypto becomes more popular during bull runs, more users sign up to exchanges, and buy native coins in order to receive trading fee discounts.
Investors can buy LEO on Bitfinex or FTX, and BNB on Binance or eToro.
Why is LEO Pumping?
Bitfinex wrote in the Unus Sed LEO whitepaper that they will use 80% of the stolen Bitcoin when recovered to purchase and burn LEO, within 18 months of the date it receives the funds. Customers who lost funds in the 2016 hacking were already compensated at the time.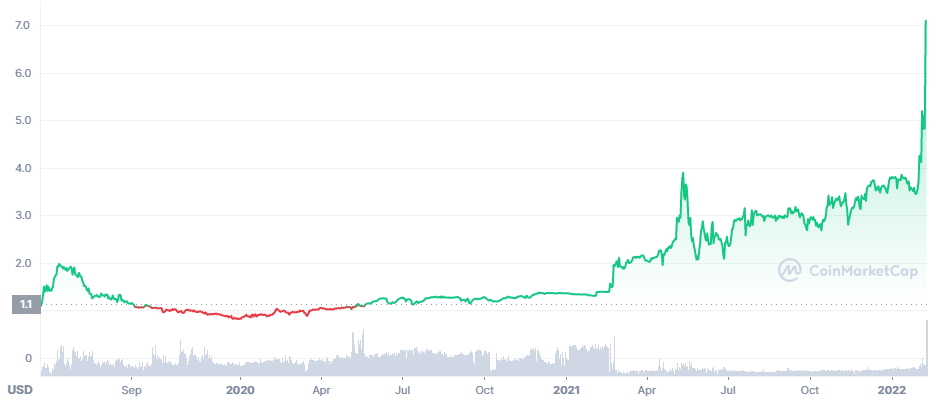 LEO price history

This means that when the DOJ returns the recovered Bitcoin – worth $3.6 billion at the time, and now worth $4.5 billion – the price of LEO should steadily continue its bullish uptrend.
The recovery also increases investor confidence in Bitfinex exchange as it was able to work with federal law enforcement to trace the wallets containing the stolen funds.
LEO / USD also broke out of a 20 month long accumulation range from June 2019 to March 2021 to set a new all-time high, then flipped that level as support in mid 2021, continuing to trend upwards into 2022.
Is this Bullish for Crypto?
Bitcoin initially dropped slightly when the news broke as some traders assumed the DOJ would now dump 119,754 Bitcoins on the market, similar to when seized Silk Road Bitcoins were auctioned off.
However the news that those Bitcoin would be returned to Bitfinex instead led to the Bitcoin price rallying again. Traders consider this bullish as Bitfinex will slowly reinvest 80% of the funds into LEO, and it may reassure the market that Tether is now more likely to be backed by USD reserves.
Bitfinex's CEO is also the CEO of Tether Limited, which issues Tether (USDT) a cryptocurrency pegged to the US dollar. Bitfinex and Tether have previously been accused in court of not holding enough USD in reserve equal to the value of all USDT in circulation.
The news of hackers being successfully caught should also improve the reputation of cryptocurrency and deter future hacks, which usually cause a short-term market crash when they make headlines in the media.
Your capital is at risk.
Source link